Xiaomi M365 Pro Reviewed
Considering your first  electric scooter or an upgrade?
You've probably come across the Xiaomi Pro M365 as it's become popular in the UK.
In this guide you'll get our Xiaomi M365 scooter review and learn about its range, speed and reliability.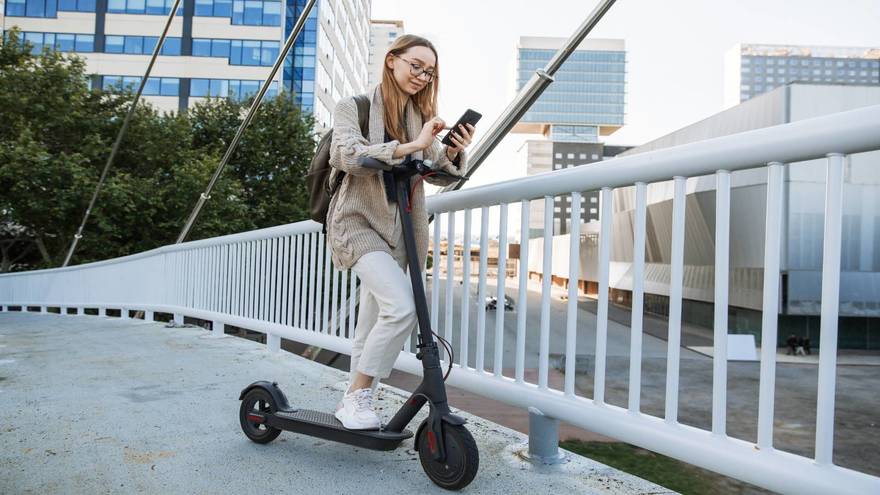 Motor Power
300W (600W Peak)
Range Per Charge:
40-60 Km
Market
Customers All Over The World
Service
Service Network All Over The World
Specification
108*43*114 cm
A good comparison to the M365 is the Pure Air Pro electric scooter. There are a few differences with the Air Pro that might sway you. Certainly, it's worth having a look before committing to the Xiamoi 365M.
Pro e-scooter for adults
More and more of us are turning to electric scooters for transport, especially around big cities.
Xiaomi, an electronics company based in China that is well known for its smart home technology and smartphone, initially entered the competition with the Xiaomi M365. 
Now, they've decided to go bigger, introducing the Xiaomi M365 Pro.
To help you decide if this is the right electric scooter for you, check our review. We've included some links to the cheapest offerings currently available in the UK.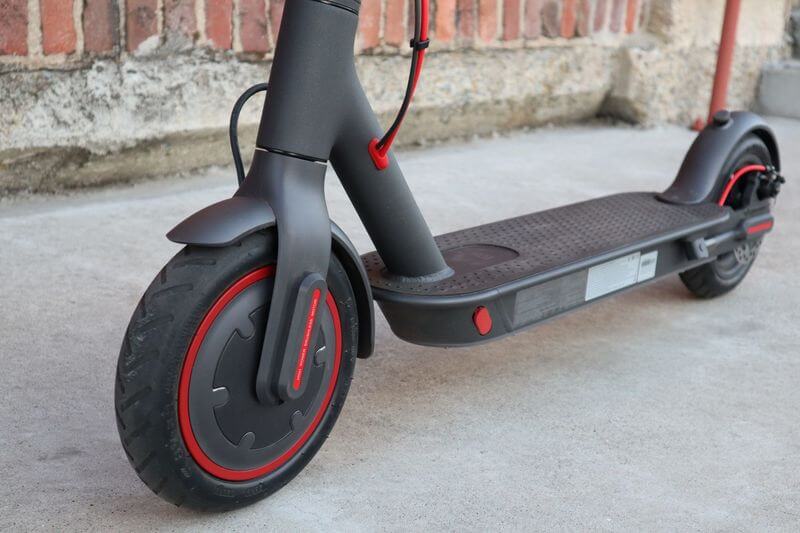 The Xiaomi 365 Pro scooter has proven itself to be popular for UK riders. You can get a little over 20-miles on a single battery trip. That's above average for a scooter around £500 mark. Shame it takes 9 hours to recharge. Some higher spec scoots get a full recharge in less than half that time.
+ FOR
Reasonable range of over 20-miles on a single charge
Looks great in that gun-metal matte grey colour
Xiaomi are known for good reliability and have 4.5 out of 5 stars on most review sites
Prices currently range but the cheapest is generally found on Amazon.co.uk
– AGAINST
Rather lengthy recharge time of 8/9 hours
Top speed is about 15 mph (25 kph) which is not bad but we'd like a touch more
A little heavier than other scooter models (14.2 kg compared to averages of 10 kg)
Despite an exaggerated charge time this scoot presents good value. Pure Electric have time to pay options if that suits your budget.
What is the availability of this electric scooter?
Currently, the Xiaomi M365 Pro isn't available everywhere, though it can be purchased on Amazon. One reason for this may be that electric scooters can't be legally driven just anywhere. With that being said, if you are going to be riding it on privately owned land, it doesn't really matter where you live.
How much is the M365 Pro to buy?
At the present time, the Xiaomi M365 Pro can be purchased for around £550 to £600 in the UK. Depending on where you purchase the scooter, you may be able to get a limited warranty that will add to the overall price, but provide added protection in the future.
Its price puts it almost right in the middle of the competition, which can be as little £300 for a low-range model and as much as £1000 for a high-end model.
For a mid-priced/ranged scooter, M365 Pro presents as a great purchase.
How is the M365 design compared to other scooters around the same price range?
There's no denying that the Xiaomi M365 is on the bulky side. Weighing 14.2 kg also means it's not the lightest electric scooter, especially when you consider that most electric scooters weigh around 8kg to 12kg.
The deck measures 45cm x 15 cm and the handlebar measures 99cm. Because of its size, it can be somewhat difficult to carry around.
Most novice riders will appreciate longer handlebars – they provide more stability which makes for a smoother ride position
Situated between the handlebars, you'll find all the information you need on the control panel, including your speed, what speed mode you're in, and the battery percent while it's charging. It also displays if the headlights are on, the scooter is locked, and if there are any system errors.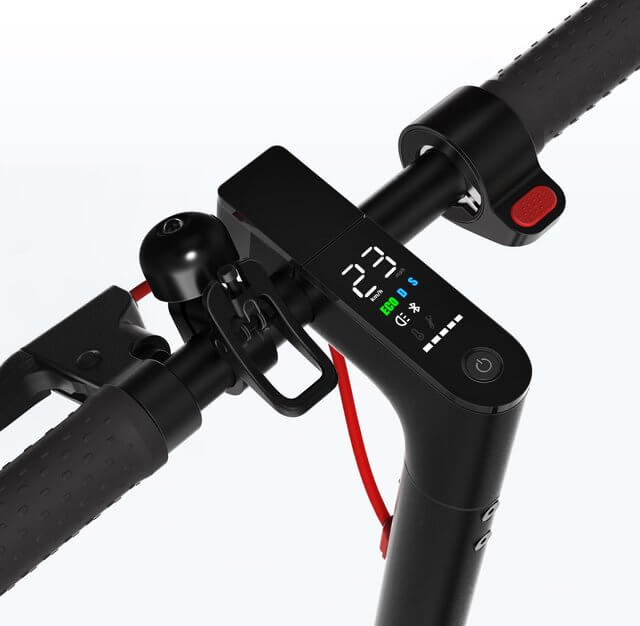 Where is the on/off switch feature?
Turning it on is simple. Directly under the display is a button that turns it on when it is pressed. With one press, the headlight will come on and with two presses, you can change the speed mode. Hold the button down to turn it off. It's worth mentioning that it can be harder to reach this button because of the handlebars' size.
Speaking of the handlebars, they are comfortable and easily gripped, even in the rain or when you're holding on for a longer period of time.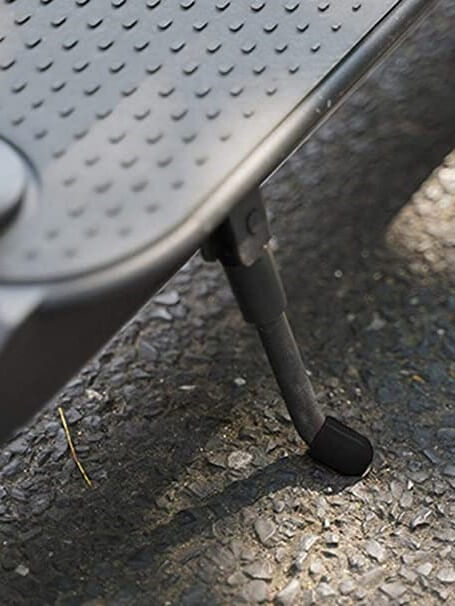 Near the front of the deck, on the left side, you'll find the kickstand.
It easily opens with a quick kick.
Before you know it, you'll be doing this without looking.
Overall, the Xiaomi M365 Pro looks pretty good in matte dark grey/black.
But watch out for branded logos added to the handlebars or forks. Companies like Pure Electric got into the habit of adding their branding to customer scooters. You might want to let them know if you do not want that added extra!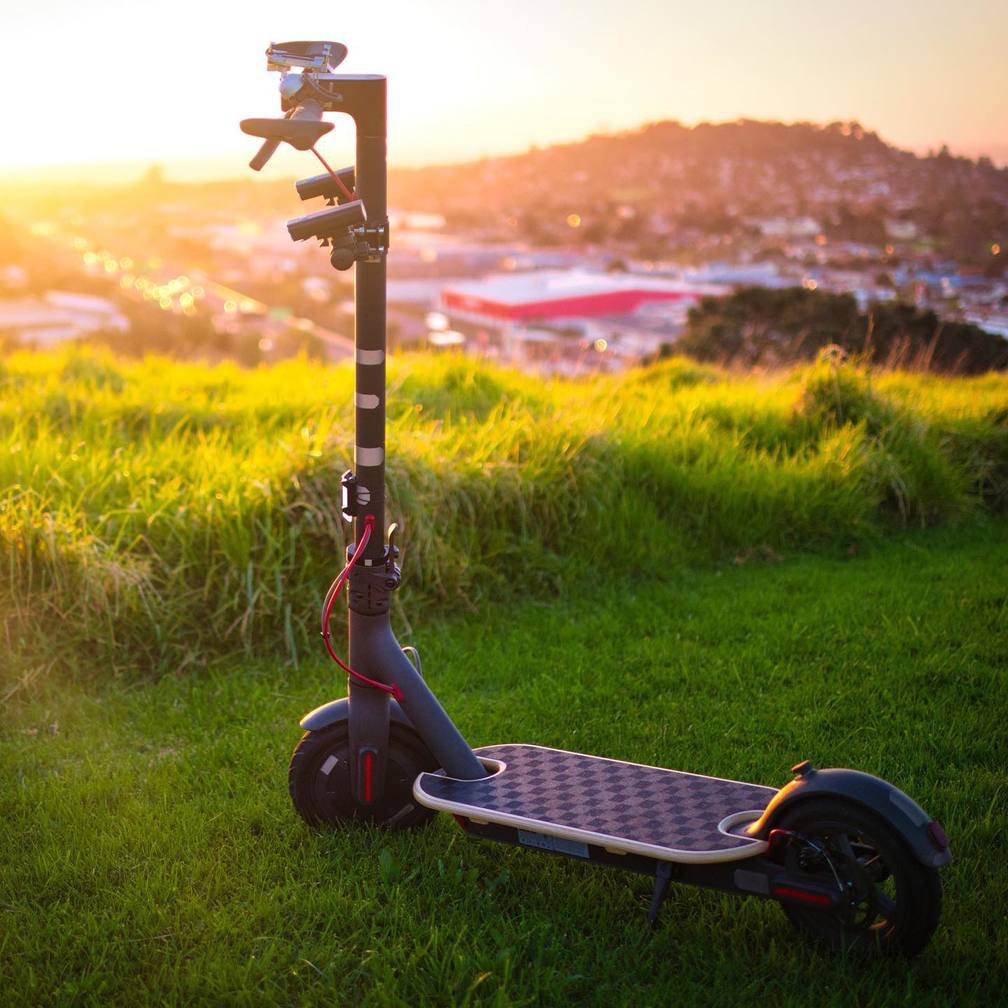 What range is available from the battery?
Based on usage, you can expect a fully charged Xiaomi M365 Pro to last around four 7 km, 30-minute commutes. This includes hitting the scooter's top speed for most trips.  Essentially, you should be able to drive around 30 km when fully charged.
You can choose to drive it in Eco Mode, decreasing the max speed, which is almost certain to allow it to reach the 45 km maximum range touted by Xiaomi.
Charging is simple, using the port near the front wheel and the included power cable.
While hooking it up is easy, the actual charging process is really slow. After 30 minutes, the battery gets to only 8%, which makes us think the battery drains more quickly than it charges. This may not be a problem for you, if you don't mind plugging it up every time you get home and have enough time to allow it to recharge before using it again.
The Xiaomi M365 Pro's capacity is listed as 474 Wh, which is much greater than the non-Pro model's 280 Wh.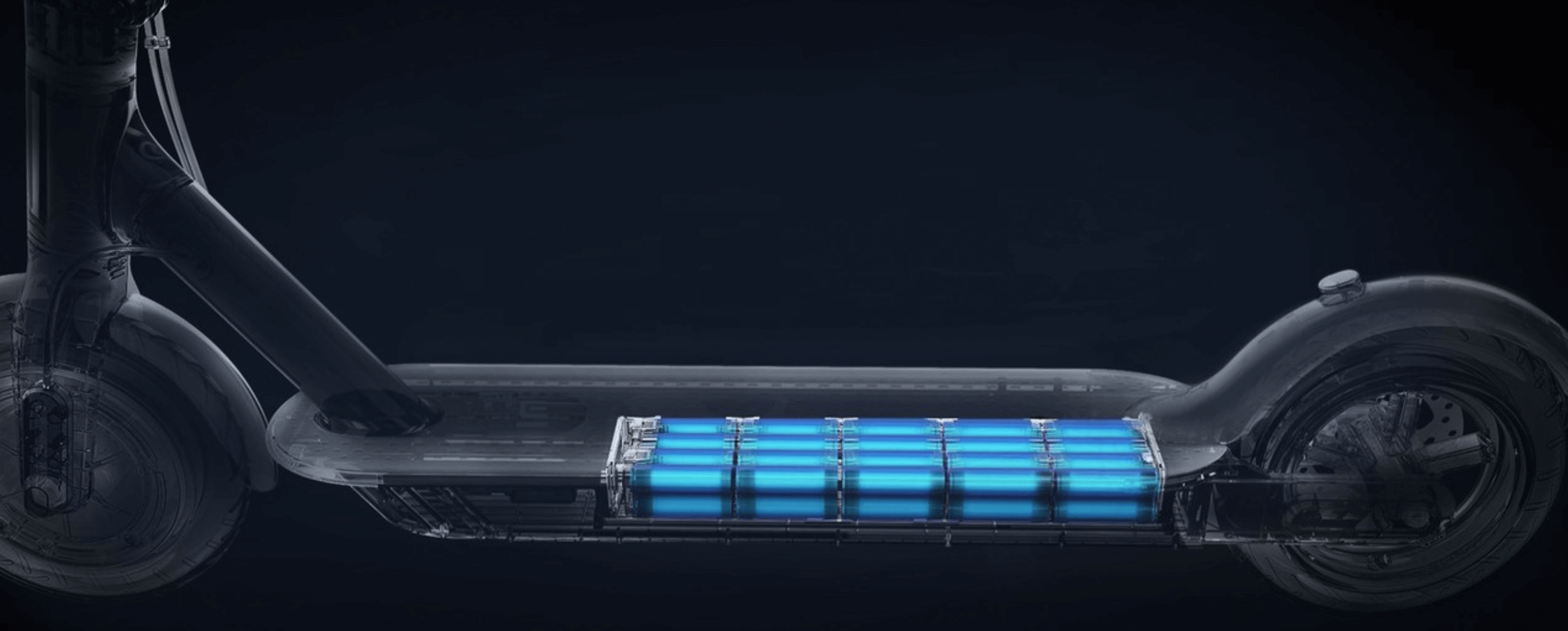 How portable is the scooter?
As mentioned above, the Xiaomi M365 Pro is on the heftier side, making it not so portable unless you are actually riding it.
To make it a tad easier, you can collapse the handlebars down into the scooter's deck. Then, use the hook near the bell (attaches to another hook on the back wheel) to lock it. The more times you do this, the easier it will become, making it easier to carry.
Unfortunately, if you like to lock your scooter to a parking space, you won't be able to do this with the M365 Pro. There's just nowhere to attach a lock. On a positive note, you can use the Xiaomi Home app to digitally lock the scooter from your smartphone. If someone tries to move the scooter, an alarm will go off and the ability to scoot will be disabled. Of course, they can always just pick it up and run with it, but that might be more difficult than a potential thief has bargained for due to its weight.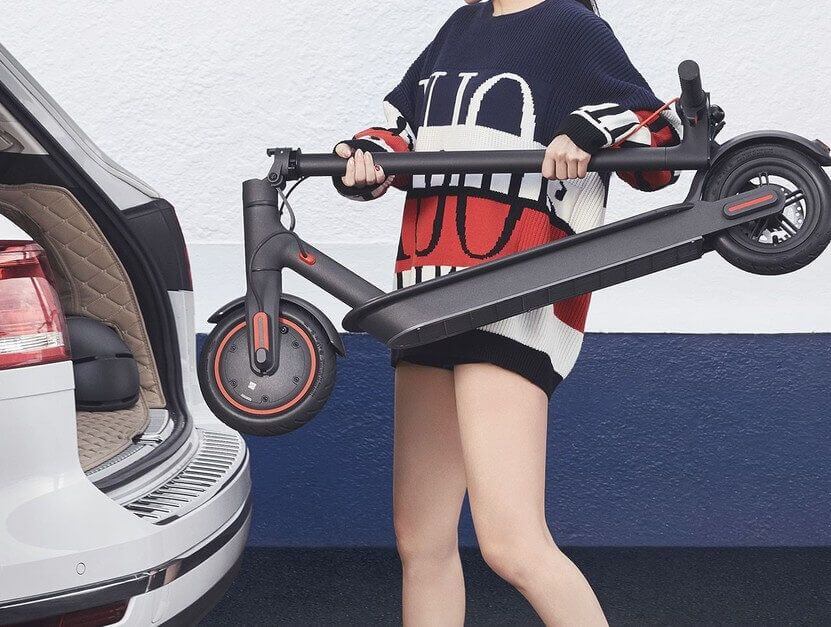 What is the scooter like to ride? 
There are three modes to choose from – Driving, Eco, and one simply referred to as "S."
We've pretty much decided that the S stands for Speed.
To change modes, just press the button between the handlebars twice. Keep in mind that this can be almost impossible to do while driving, so you'll probably need to stop or at least slow down when changing modes.
Driving mode gives you a top speed of 15 mph, which is perfect if you want to keep pace with cyclists. The speed is slow enough to be safe, but fast enough to feel like you are moving and not getting in anyone's way.
When using Eco Mode, your speed tops out at about 12 mph. This is good for navigating crowded streets and weaving through cars in traffic. As an added bonus, it doesn't use as much battery as the other modes.
On the flip side, Eco Mode feels way too slow for all but the quietest and busiest roads.
S Mode allows you to hit the scooter's listed max speed of 20 mph. While this isn't nearly as fast as some of the higher-end models, with speeds up to 50 mph, it is fast enough. Plus, do you really need to go 50 mph on most roads?
For the motor to kick in, you have to first kick off like you would a normal scooter. Once you are moving, you can hold the accelerator button. On every mode, the acceleration felt great, giving you a rapid start that made it easy to overtake other scooters and cyclists when starting off.
There were a few issues that we didn't necessarily like about driving. The tyres lack grip, so it can take a little while to get fully stopped when braking, particularly when it's raining.
Scooters Electric, our final verdict
The Xiaomi M365 Pro electric scooter is certainly one of the larger models available in the mid-range price. With its size also comes power. It also feels fabulous on the road, especially in regards to speed. You're able to keep pace with traffic without any issue.
The one real issue we had with the Xiaomi M365M Pro involves the battery. If your lifestyle is fast-paced and busy, you may not be able to keep it charged. Otherwise, it is definitely a choice worth considering.
Pure Electric now offer M365 over a two-year plan for less than £25 p/month. Amazon is the next best vendor with free delivery.