Razor e Prime Scooter Air
Technically, the Razor e Prime Air can be classed as a scooter best suited to adults.
But, if you are looking for the perfect electric scooter for your teen (14 years +), whether they are planning to use it to get back and forth to school or just for fun, the Razor Air is definitely worth considering.
With its stylish design, cool features, affordable price tag, portability, and safety features, the E Prime is an electric scooter that both you and your teen are sure to appreciate.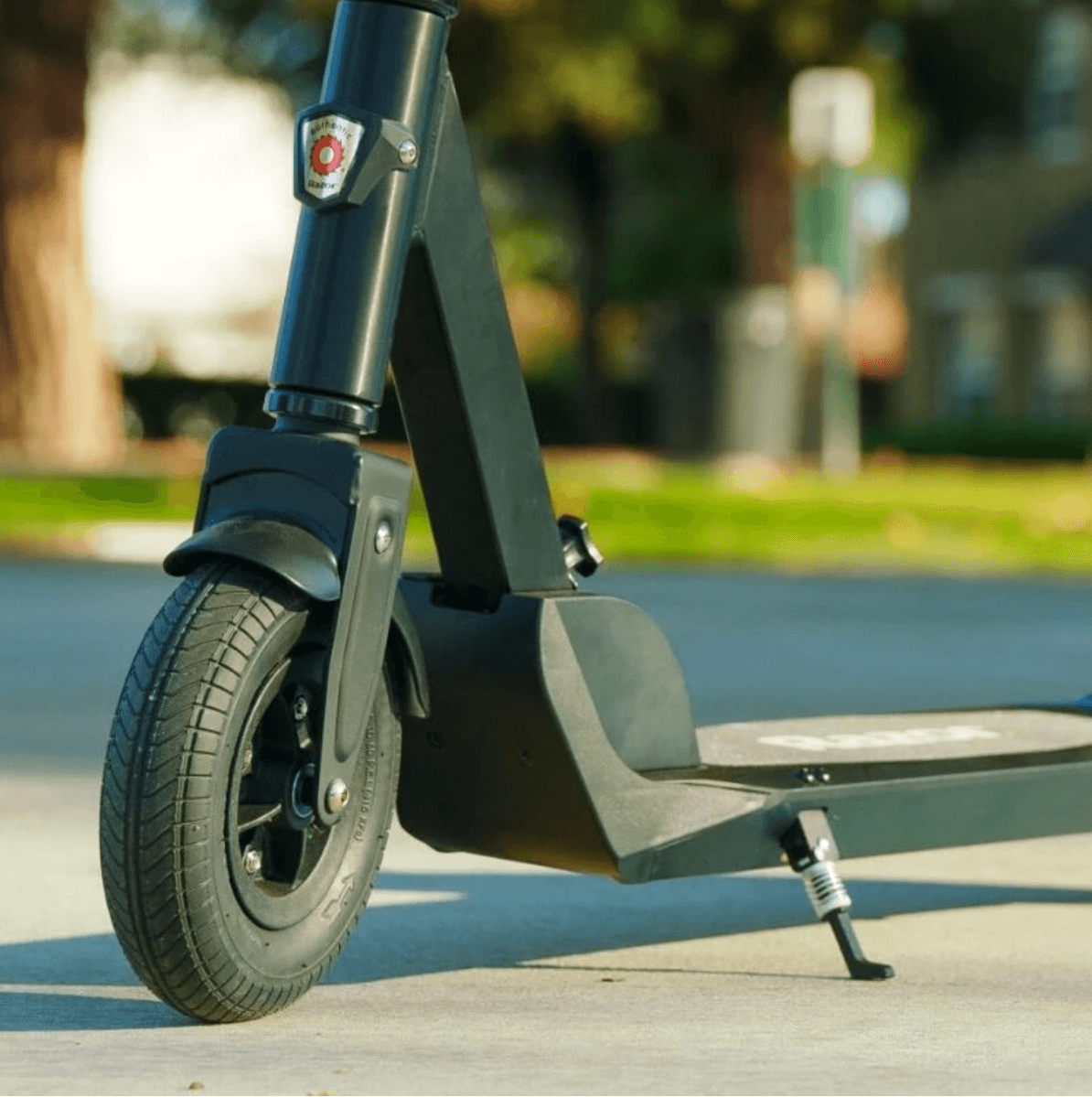 Of all teenager appropriate scooters E Prime is the front runner in design, speed and durability.
For top after-sales service we recommend buying it online from Ride + Glide. – currently priced at £399.99, delivered.
Amazon are our second choice priced at £391.67, delivered free for Prime members (note, Amazon change prices daily so this slightly cheaper offer may expire at any time).
To help you decide if the e-Prime is the electric scooter you are looking for, read through our in-depth review below. You might also want to check our reviews of other popular Razor best kids electric scooter models.
This article reviews the Razor e Prime Air electric scooter
For adults, and teenagers aged 14 years and above
Model NO.
Razor e Prime Air
Battery
36V rechargeable lithium-ion pack (UL2271)
Max Speed
15 mph / 24 kmh
Max Load
91 kg or 14 stone
Range Per Charge:
40 minutes continuous usage
Tyres
F: pneumatic | R: abrasion-resistant, airless, flat-free
Waterproof Level
Water resistant
Specification
40 x 18.2 x 41.5 inches
Origin
USA but sold in UK
Where is the cheapest place to buy?
Depending on where you look you can find the Razor E Prime for around £399 see Ride+Glide.co.uk. It is one of the more reasonably priced electric scooters on the market. It's also one of the easier scooters to find, whether you are looking to make your purchase online or in a store.
View the scooter on Amazon.co.uk where Prime members get free next day delivery.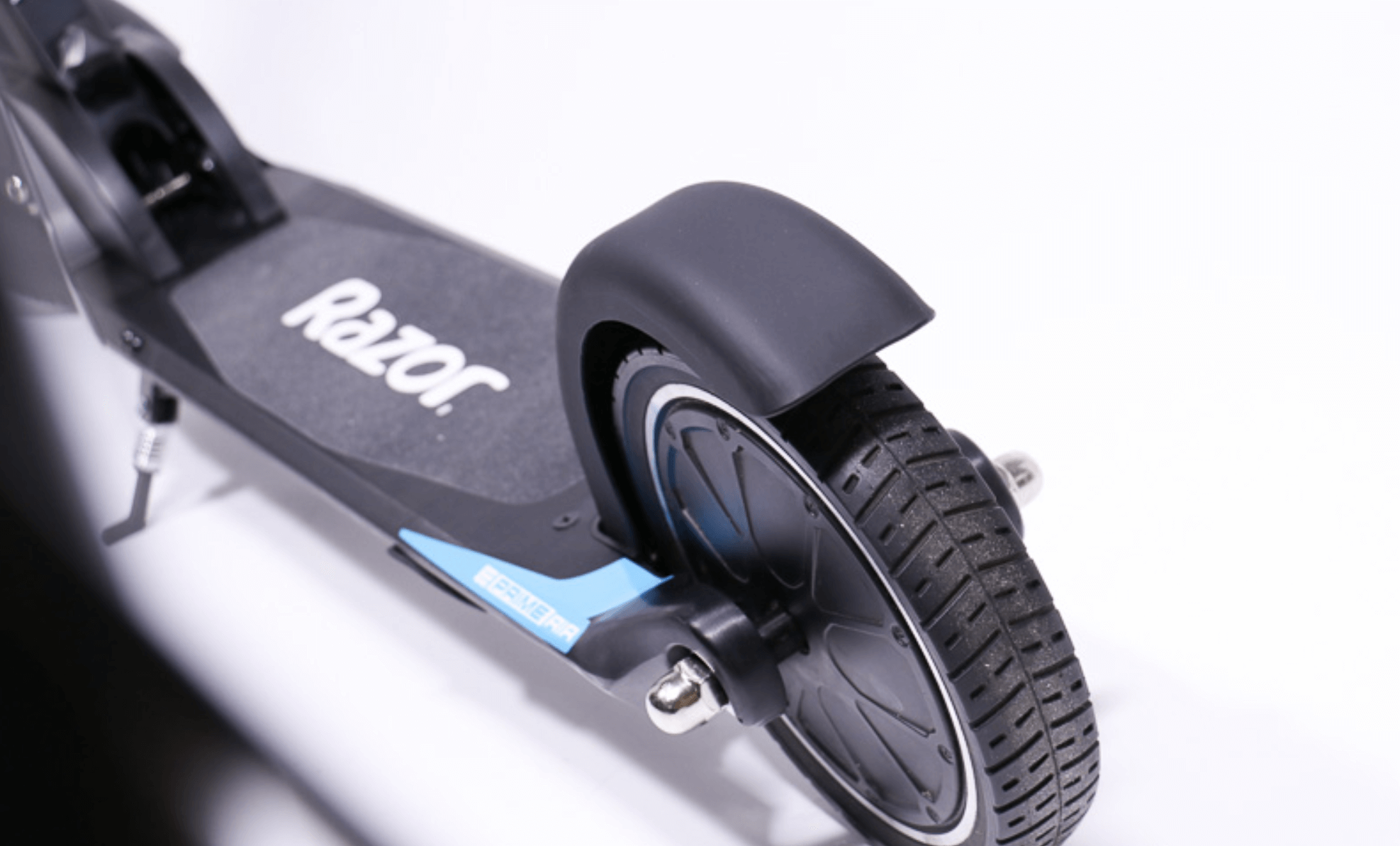 We love this scooter for affordability coupled with a super quick recharge time of 3.5 hours. The adjustable handlebar feature is great too and not to be found on comparative models. 
The scooter is pretty light to carry around for those that need it.
Unfortunate that the Prime Air is only available in dark grey.  
+ FOR
Recharges in under 4-hours
Adjustable handlebars for different rider heights
No fear of a flat tyre
Affordable price tag
Incredibly quiet motor
Suits older teenagers and adults
– AGAINST
Dark grey colour may be a bit boring for some riders
Maximum of only 40-minutes ride time (common on most scooters at this price point)
Design is good but just one colour?
When designing the E Prime, Razor went for a more modern and sophisticated design and currently consider the E Prime to be the "sleekest electric scooter" they have available. Unlike other Razor scooters, there is only one colour option, dark grey. This adds to the scooter's ultramodern look, but may not appeal to all teens.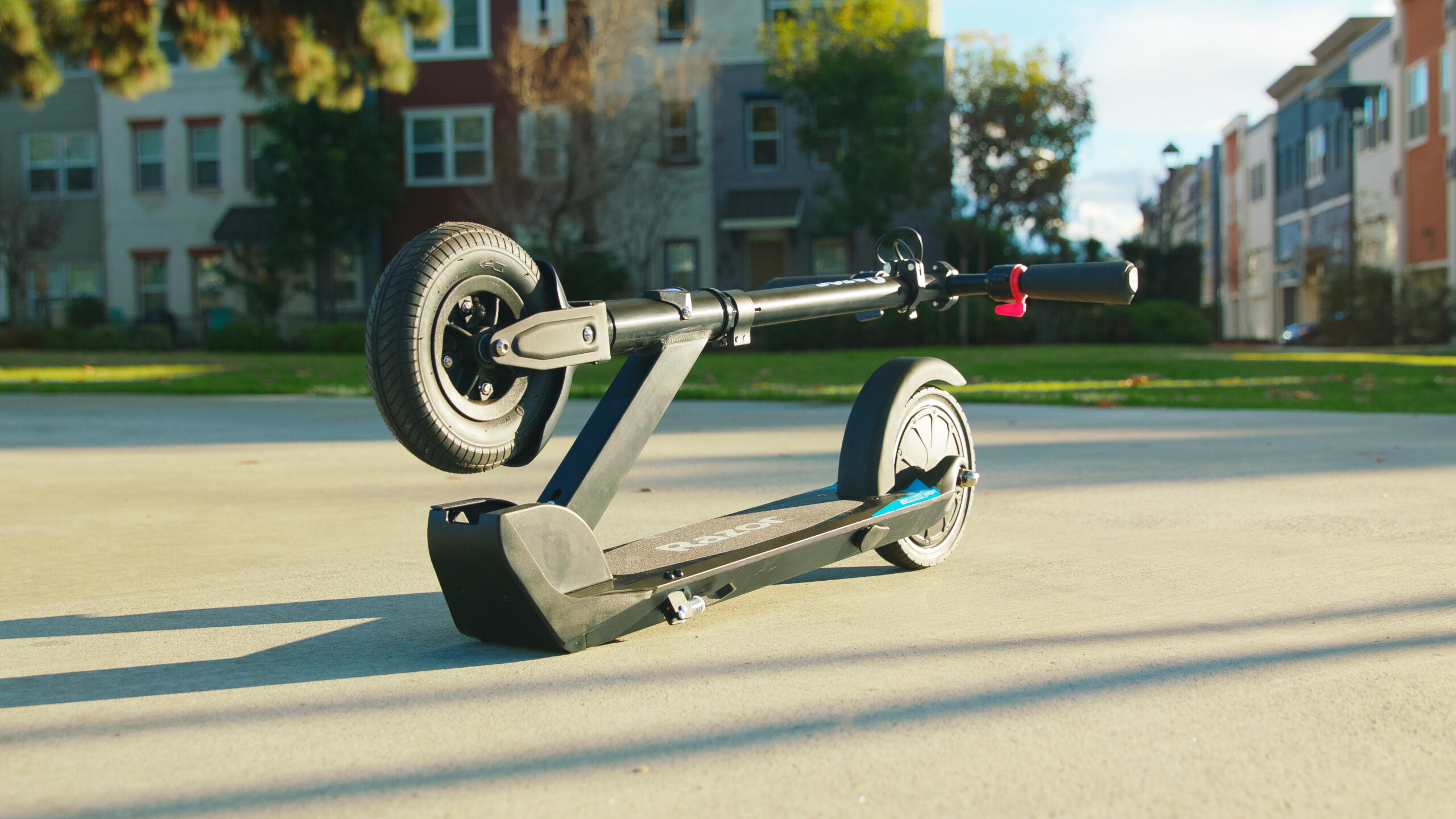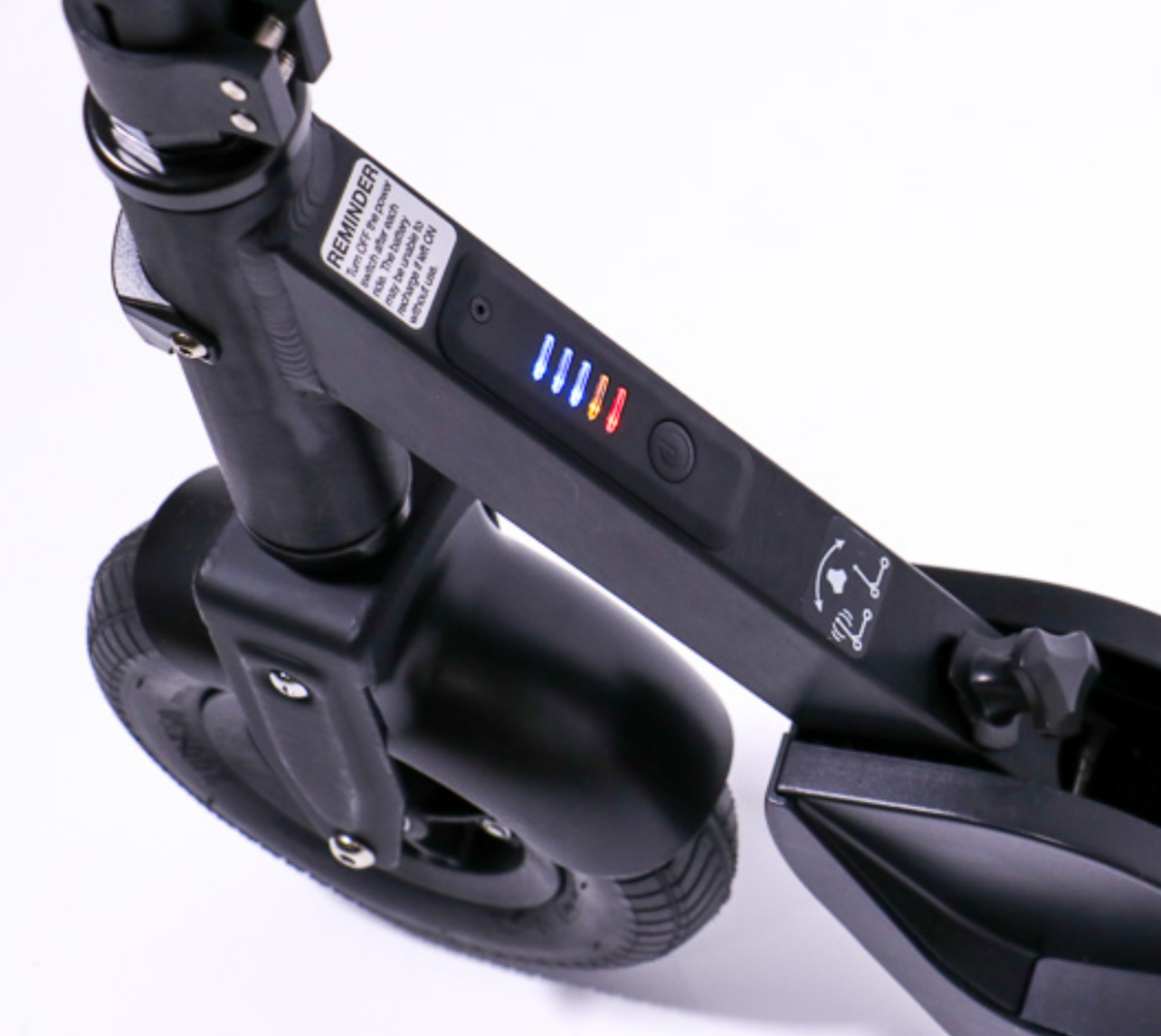 Battery design and specification
The scooter is equipped with a 36-V lithium-ion battery pack. The scooter can be fully charged in 3.5 to 4 hours, which isn't as long as most other electric chargers on the market. When fully charged, your teen can expect up to 40 minutes or around 16 km of continuous ride time. Be aware that this can decrease significantly if they are frequently starting and stopping.
The charging port is located on the underside of the deck and has a waterproof cover that is very difficult to open. (On a positive note, it does a great job keeping water out.)
As a bonus, the scooter includes a battery indicator display, so you'll never have to worry how much charge you have left.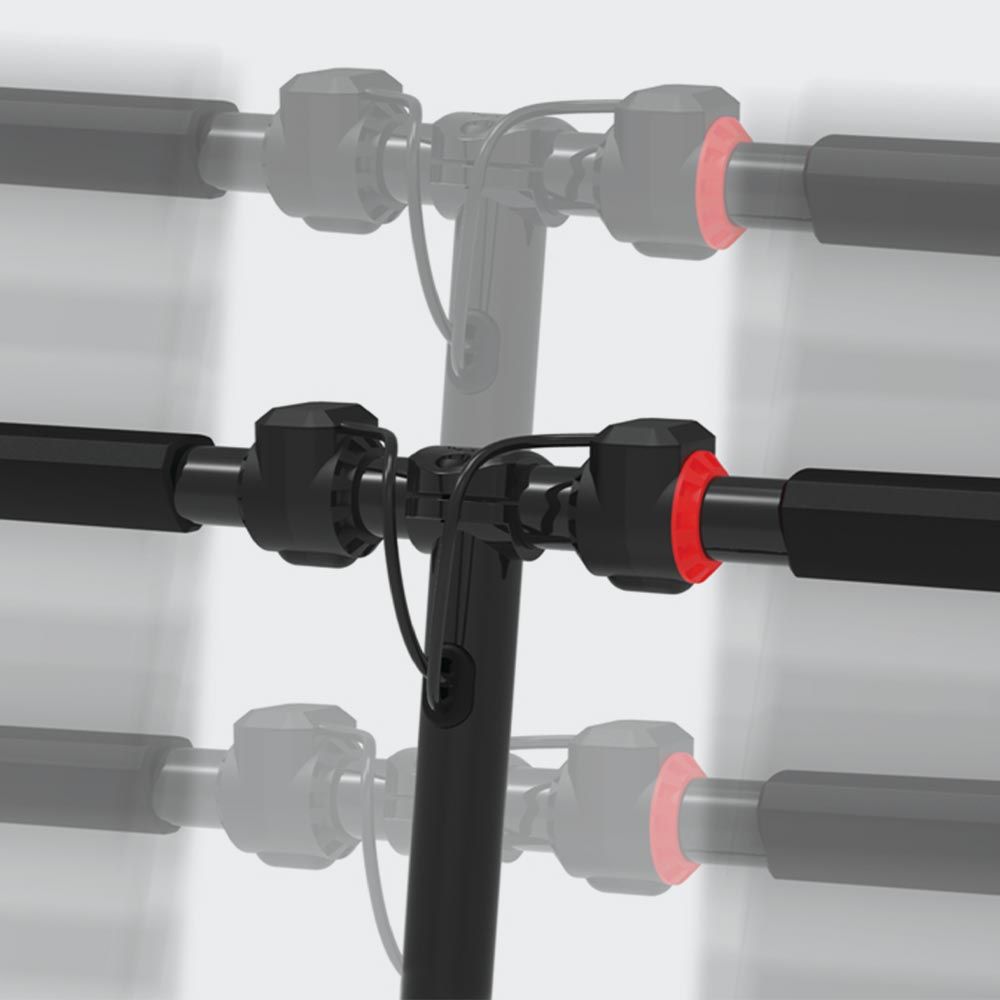 Adjustable handlebar ride heights unique to this e-scooter
How good is overall portability? 
When folded, the E Prime measures 86 cm x 36 cm x 46 cm and weighs in at a reasonable 9.5 kg, making it much more portable that many other electric scooters on the market.
Its the lightest in its class. This also makes it easy to carry by hand, if needed, and fit in a compact storage space.
The E Prime includes a security lock point that gives you the ability to secure it in placing using your own lock.
What about rider safety?
Razor has always been committed to safety and the E Prime continues this trend. The E Prime's deck is lower to the ground, making for a more stable (and safe) ride. In addition, both a front and rear light are on the scooter, illuminating things ahead of you and increasing your visibility from the back. Unlike many other electric scooters, the handlebars are adjustable, which means your teen can easily adjust it to a safe (and comfortable) height. Be aware that Razor suggests that riders be 14 years or older.
Don't think that because the E Prime is one of the lighter weight electric scooters on the market that it isn't durable. In fact, it is, mostly thanks to the high-quality aluminium used for the frame and down-tube, as well as the patent pending, anti-rattle folding technology, which also improves the overall riding experience. Simply put, the E Prime is well made and built to last.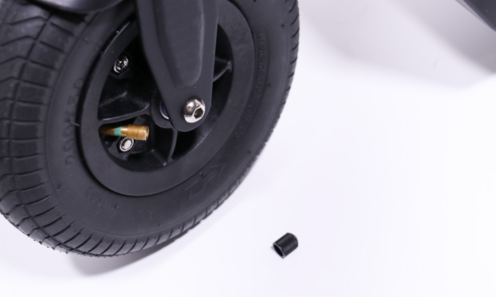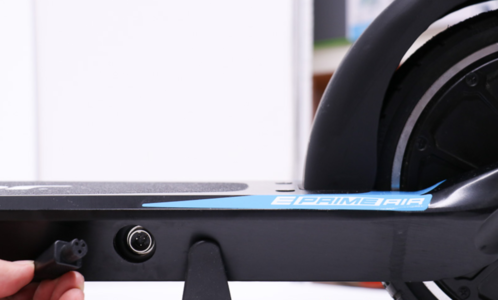 Can you describe the ride experience?
The E Prime AIR is equipped with a high-torque electric hub motor that allows riders to reach a top speed of 15 mph or 24 km/h. However, its acceleration is a tad on the slow side.
The extra-wide deck provides plenty of foot space, while the rubber grips offer the cushioning and comfort everyday users prefer for a comfortable ride.
Thanks to its slim design, riders should be able to easily manoeuvre through tight spaces and navigate through crowds without too much concern, which will enhance the riding experience.
It is worth noting that the Razor E Prime glides almost effortlessly on even pavement, but does not do quite as well if there are potholes or cracks, according to current owners. You'll want to take a good look at the route your teen will usually take before deciding if this is the right electric scooter for them. 
Our final verdict?
If your older teen is in need of a high quality electric scooter that also happens to be affordably priced, the Razor E Prime AIR is a terrific option.
Check buying options on Amazon.co.uk and Ride+Glide.co.uk
It has a sophisticated style, allows for a speed that is fast enough to make sure your teen feels the wind in their hair, yet also provides safety, and is very durable. In addition, the adjustable handlebar means that you won't have to go out and buy a new scooter if your teen goes through a growth spurt. You'll definitely get your money's worth if you purchase this electric scooter.