Inokim Ox Electric Scooter
Full review of Inokim's renowned OX
Inokim lead the way in e-scooter technology. Their electric scooters are always more expensive than competitor models, but for good reason. Speed, reliability and charging times tend to be superior alongside build quality, and the Inokim Ox is no exception.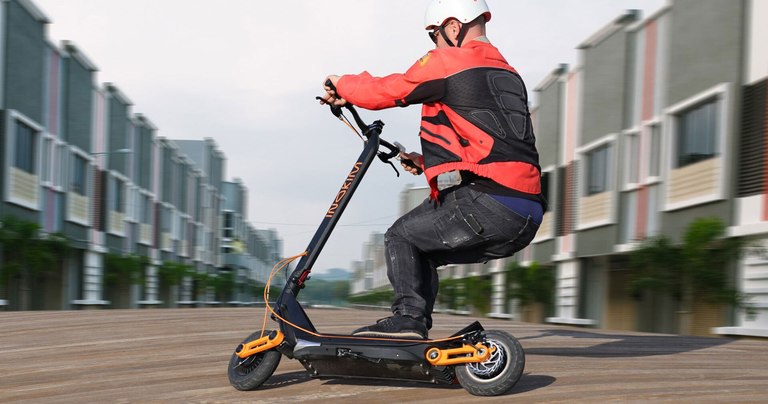 Ready for the best affordable e-scooter on offer?
Spend a little more and get an unmatched adult riding experience with great reliability.
Yes, the Inokim OX is our favourite adult powered electric scoot. Check it out right now on Pure Electric.
Motor Power
800 watt brushless motor
Range Per Charge:
60 miles
Charging Time
Approx. 7 hrs
Waterproof Level
Currently unknown
Service
United Kindgom / rest of world
Specification
120 x 58 x 128 cm
Can I buy the Ox scooter in the UK?
With its price tag ranging from around £1,399 to £1,999, depending on what website you visit and any sales/ promotions that are available, the Inokim OX is certainly on the higher end of the electric scooter price range.
At the same time, many stores are sold out, making it a tad more difficult to find. If you don't mind searching around and are comfortable with the price, the OX is certainly worth considering.
No available on Amazon and Pure Electric run dry of stock every few months. If you find one for sale, we suggest you snap it up right away.
Check Pure Electric now for the lowest prices and highly reviewed customer services. Currently offered under £1,400 with a range of time to pay options.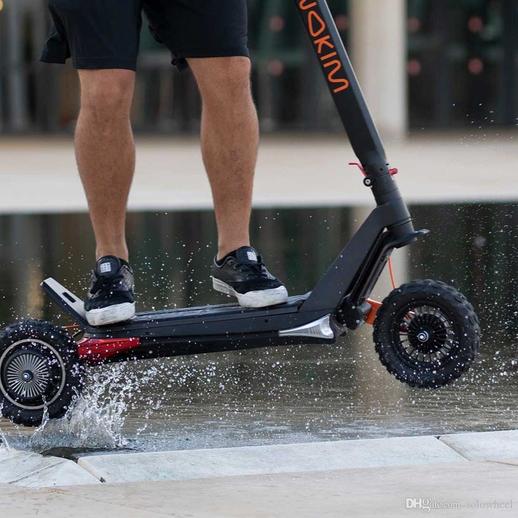 The scooter is designed to ride on a range of surfaces and conditions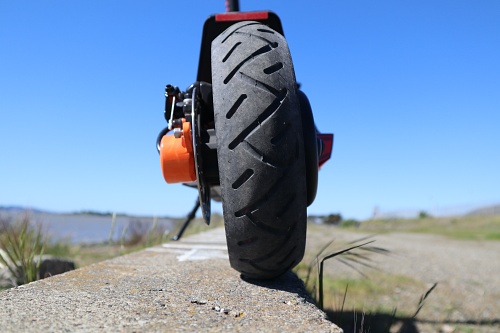 The Inokim OX is one of the top-rated e-scooters on the market. It's rapid, strong but also heavy. We can't find a comparative scooter that is as good as the OX.
If you want a similar scooter that's a little more lightweight, check the Inokim Quick 3 on our review page.
This scooter is pricey at around £1,350. The moment you ride it though, you'll see why it's got a big price tag – it's a real joy to ride.
Pure Electric offers a couple of finance options over six months. 
+ FOR
The Inokim OX is made with high quality material and is not your typical generic type of scooter.
Perfect for commutes, as well as off-road and urban adventures.
Has a max weight limit of 130 kg.
Was awarded the 2018 Red Dot Design Award.
Top speed of almost 30 mph!
If you are serious about buying an electric scooter, meet the Ox.
– AGAINST
It is heavy, weighing around 25-28 kg (57-61 lbs.), making it less portable than other electric scooters. It is almost certain to be hard to handle if you sometimes take public transportation.

Deck doesn't have the best grip pads when it's soaked.

Cannot connect to your smartphone.
What are the design and specifications like on this Inokim?
The OX features a unique, yet sleek and minimalist design and is constructed with quality parts. All are custom and made to fit and work together perfectly. Its overall look is innovative, robust, and sturdy. Primarily graphite grey in colour, there are eye-catching orange accents.
When designing the Inokim OX, it was decided to make the throttle thumb-controlled, which is much more comfortable than a trigger throttle, particularly on long rides. The cockpit sits right in the centre for easy viewing of all the pertinent information you need to know.
Unfortunately, it can't be connected to your smartphone.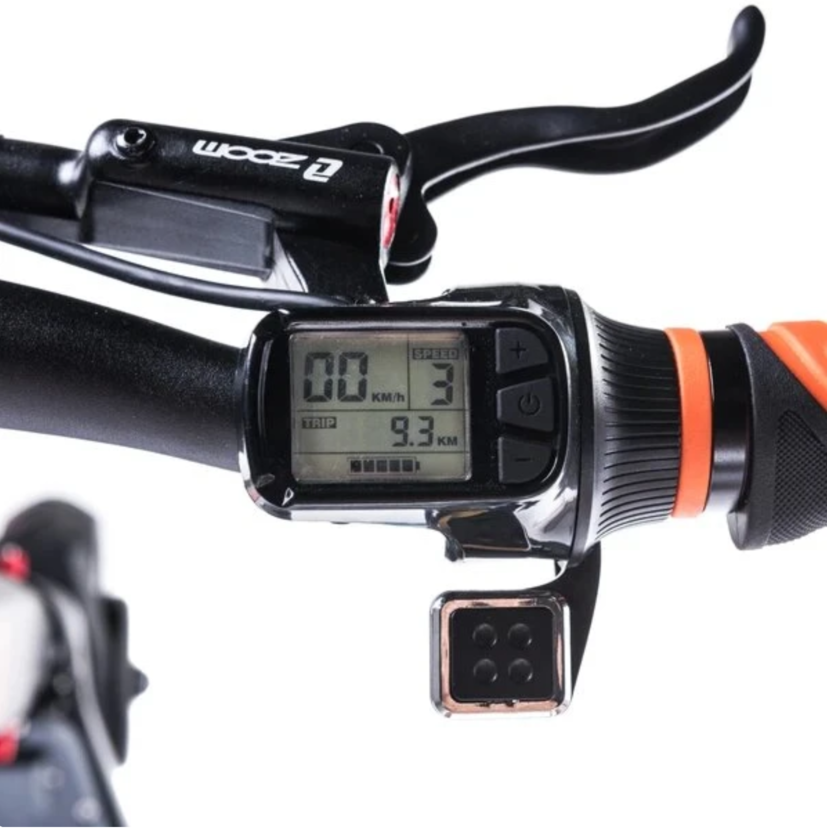 Display unit functions:
Speed
Speed modes
Battery level
Range
Power on/off
How good is the battery power range?
The battery range is excellent:
60 km at Full Speed Mode
110 km when in Eco Mode.
Charging is a simple process that simply requires you to connect the included charging cord to the scooter's charging socket and then to the electrical outlet. It go from zero to fully charged in around 7 hours.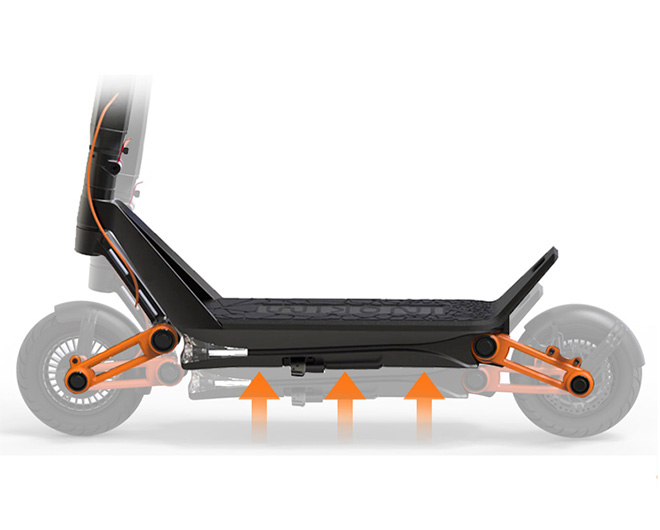 Around 7 hours to full charge and the battery has a huge range:
60 km at full speed
110 km at Eco speed
Is the Ox easy to fold and store? 
The OX was designed to be easily folded and carried in one hand. However, it is on the heavy side with an average weight of 25-27 kg and can be very difficult to carry for an extended distance or up a flight of stairs.
It measures 119cm x 58cm x 58cm when folded down, which means you will need a slightly larger storage space than you would with most electric scooters.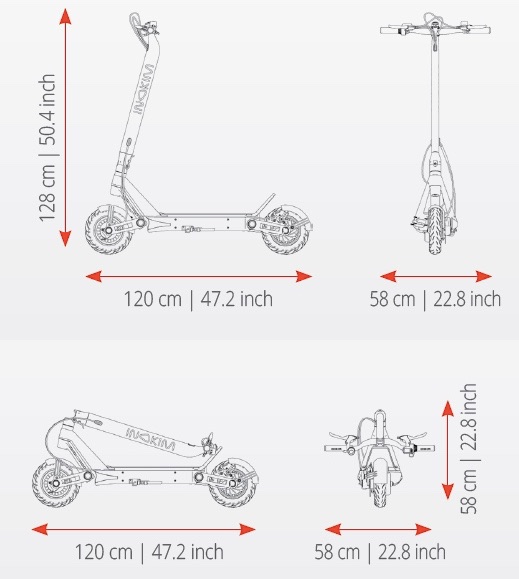 What's the ride like?
Equipped with a powerful 800-hub motor, the OX reaches a top speed of 2p mph and makes climbing hills pretty easy, while also offering outstanding ride quality, thanks to the comfortable grips, full-throttle, and smooth suspension. 
The adjustable suspension makes it easy to adjust it to fit your terrain and is incredibly quiet; (Lower suspension is better for higher speeds and higher suspension is better for tougher terrains.)
There are two ride modes to choose from. Full Speed Mode (60 km) is perfect for short commutes, while Eco Mode (110 km range) is ideal for longer commutes.
Any rider is going to love this scooter. We also vouch for buying an e-scoot that exceeds your needs and the Ox is a sure contender. 
What is Scooters Electrics final verdict? Should I buy?
A sleek overall design, the ability to use the OX in urban and off-road settings, and durability; these are just a few of the reasons that our review of the OX by Inokim leaves it as the stand-out amongst electric powered scooters.
You also have to consider the superior build quality and the fact that it offers a comfortable ride, which is not the case with all electric scooters.
Of course, the OX's major downside is related to its somewhat poor portability. Someone with a small stature may really struggle with it.
Overall, if you can handle the somewhat steep price tag, the Inokim OX is probably the perfect fit for you, especially if you like to go off-road. Actually, for range, power, durability, reliability and speed, the OX is our No.1 electric scooter in the UK. Go the Pure's website now for a serious look.