Razor E200 Kids Electric Scooter
If you are looking for the perfect electric scooter for your child, blitz through this articlee. With so many to choose from, we've taken a good look at several of the most popular options to choose from.
Below, you'll learn everything you need to know about the Razor E200.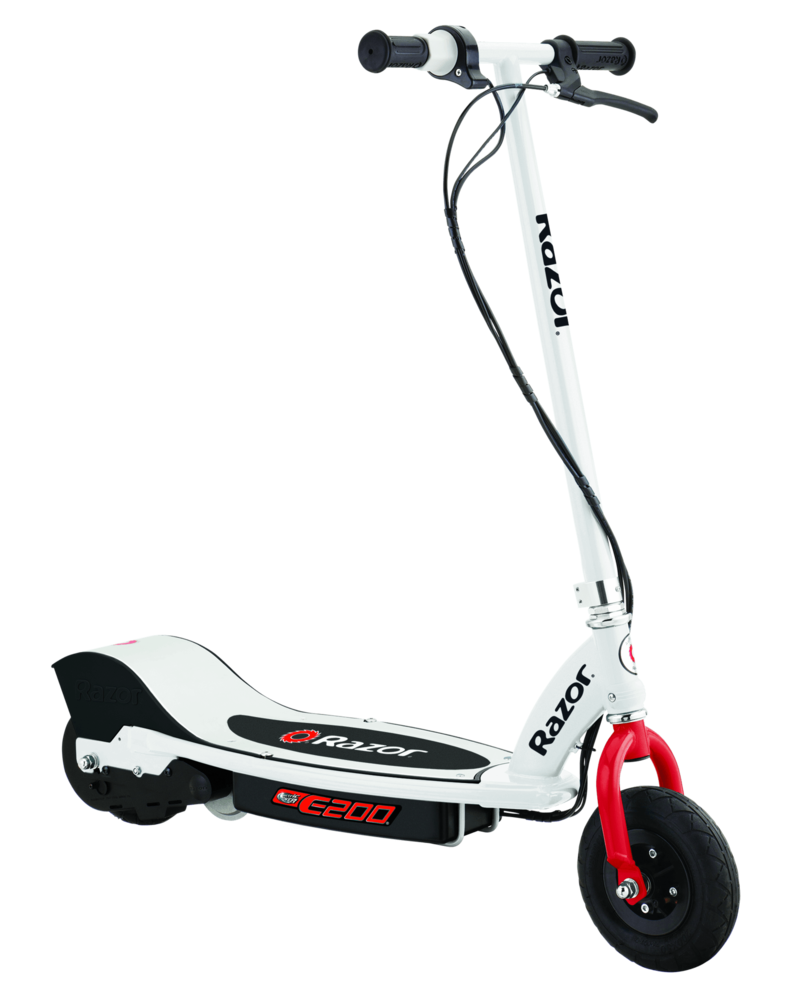 Pure Electric are currently out of stock. Their comparative offer is the E Prime. Take a look at this scooter on their website. We have reviewed Prime's big brother the Razor E Prime Air.
Amazon.co.uk have the E200 model available now in mid-blue. 
Review of the E200 electric scooter by Razor
For children aged 12+ years
Our website reviews a range of electric scooters for kids, by age.
Max Load
154 lb or 11 stone
Motor Power
Chain driven / high torque
Range Per Charge:
40 minutes continuous usage
Range
16 km or about 10 miles
Charging Time
Up to 12 hours
Waterproof Level
Not waterproof
Specification
37″L x 16″W x 42″H
It's hard to find one. Where can I buy?
Priced around £184.99, the Razor E200 can be hard to find. Several online merchants are currently sold out. Your best options for finding it in stock is with Amazon. However, this could easily change as Pure Electric sell a lot of electric scooters and quickly replenish their stocks.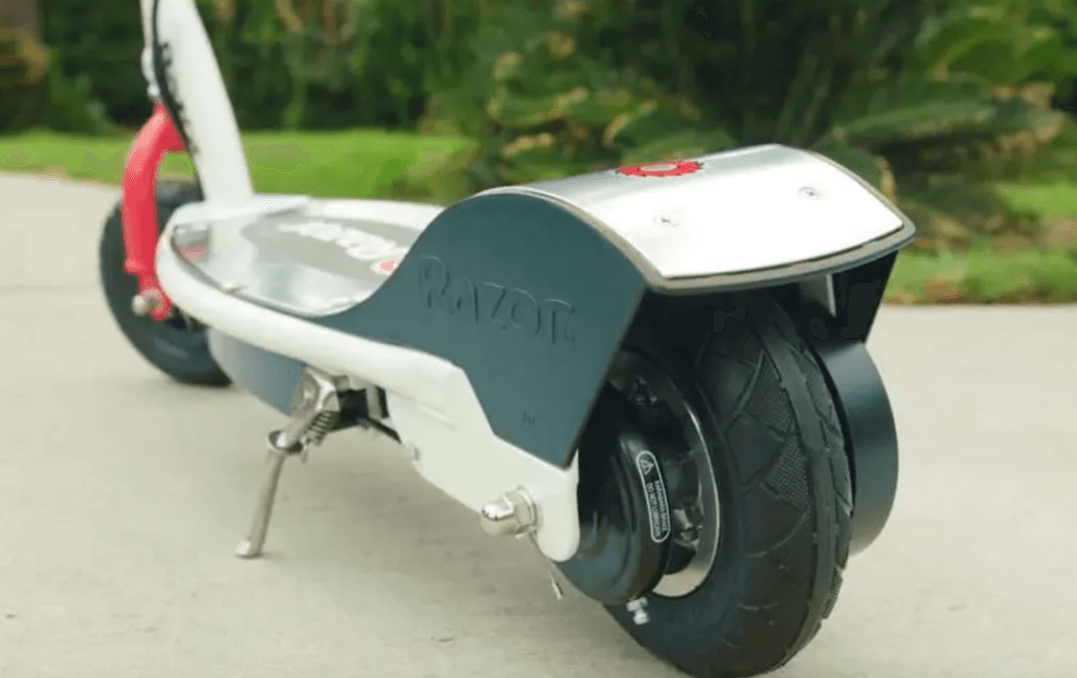 The E200 is the slightly bigger brother to the Razor electric scooter E100. To compare, the latter runs a maximum speed of 10 mph whilst the 200 tops out a 12 mph (doesn't seem much but for 12 year old it makes a big difference). 
Overall we like this scooter and it's a good price point. Check some of the key features like charging time and range. Full information listed in this article. 
+ FOR
Incredibly quiet motor
Can hold up to an 11 stone rider
Has an auto start rather than having to push start it – a rare feature on kids electric scooters, especially around the low price range
– AGAINST
Does require a minimal amount of assembly, including attaching the handlebars and pumping up the tyres
Can be difficult to find online and in stores – Amazon is your best bet.
What design colours are on offer?
The Razor E200 is available in several fun colours, including teal, lime, green, and red. While some kids may love the colours, others may prefer something that looks a tad more grownup. 
The handlebars extend 64.7 cm and have a soft, rubber grip that connects to the twist grip throttle and hand-operated brake. The full-size deck measure 65 cm in length and 19.2 cm in width, ensuring there is plenty of room for your child.
As an added bonus, you can purchase a padded seat for the scooter, which is simple to put on and remove, allowing your child to sit or stand.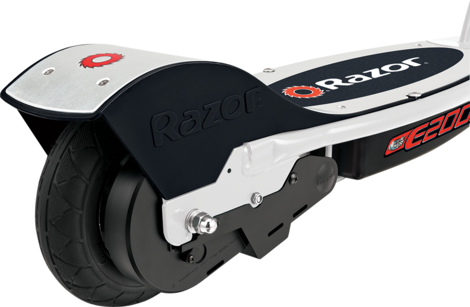 12 Hours to full charge 
12 km or 40-minutes of continuous scooting
How good is the battery and scooter range?
The E200 is equipped with two 12V sealed lead acid batteries and includes a charger. It usually takes around 12 hours to go from zero to fully charged. (Allow 24 hours for the initial charge.)
A full battery allows for around 40 minutes or just over 12 km of ride time. If a child is light weight, the battery life may last longer.
Charging is simple. Just be sure the power is switched to OFF. Then, look below the left side of the deck for the charger port. Remove the cap and plug in the included charging cord. Place the charger's other end into a wall outlet.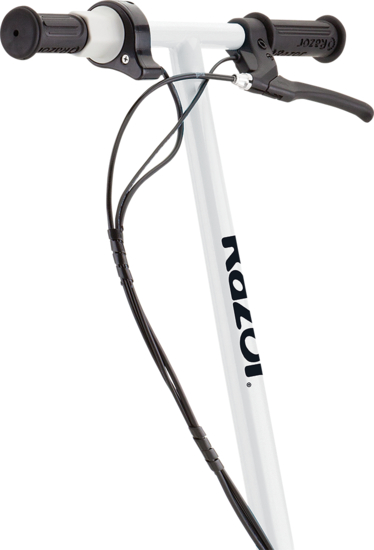 Handlebars are easily removed/collapsed for reasonable storage
Can it be stored easily? 
Weighing around 18 kg, the E200 isn't meant for a child to carry it around, but you probably good. Most likely you are more interested in how much storage space it will need. There is good news. You can quickly remove the handlebar, making it easy to store in your boot if you're heading out on a day trip or in an out of the way corner in the garage.
The safety of your child and scooter reliability
With a top speed of 12 mph or19 km/h, the E200 is fast enough to let your child have fun, without you having to worry that they are going too fast. In addition, it is equipped with a hand brake that cuts the motor off when any pressure is applied and the brake is engaged. This allows your child to quickly come to a stop if they ever need to.
Keep in mind that this particular electric scooter is designed for riders aged 12 and up. However, many parents admit having purchased their E200 for children as young as 9 years old
Razor has a well-established reputation for superior products. The E200 is no exception. Thanks to its all-steel frame, it can easily withstand general wear and tear, as well as rugged use.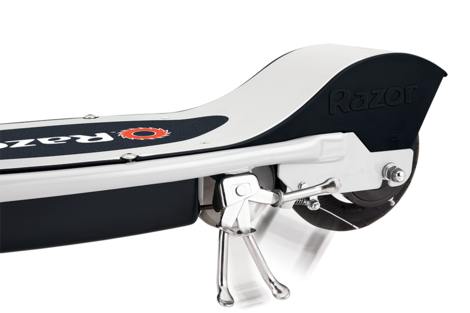 Our final verdict?
If your child is large enough to ride the Razor E200, it is certainly one of the best electric scooters for kids currently on the market.
It is affordably priced, has a reputation for outstanding reliability and durability, and provides a smooth, yet fun and exciting ride. Plus, it is available in fabulous colours that are sure to catch the eye of passersby.
If you are considering purchasing one for your own child, don't forget that they may be hard to find. We suggest starting your search on Amazon.