Razor E100 Child's Electric Scooter
There's no doubt about it – kids love electric scooters.
If you've decided it is time to get your child an electric kick scooter, you may get overwhelmed by all the options available.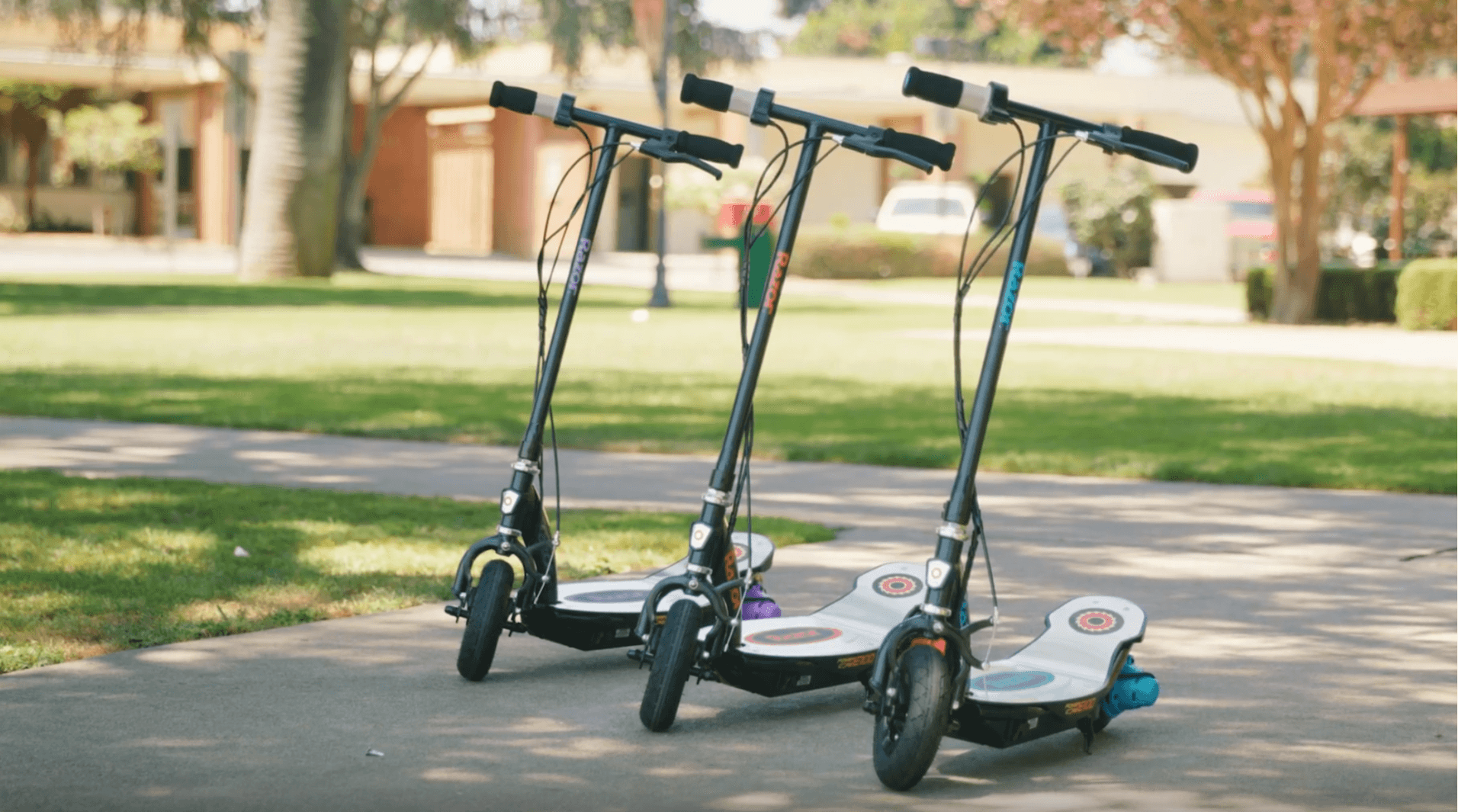 The cheapest we have found the E100 is £179.99 delivered. Visit purelectric.co.uk. Look for a 20% discount of kids ride helmets too or use this code SAFETY20. 
To help you choose the right scoot, we've reviewed several of the most popular children's electric scooters.
This article reviews the E100 by Razor
For children aged 8 years and above
Click the following link to see reviews of the best kids electric scooter by age.
Max Load
120 lb or 8.6 stone
Motor Power
100 watt chain driven
Range Per Charge:
40 minutes continuous usage
Charging Time
Up to 12 hours
Waterproof Level
Not waterproof
Specification
32.5 x 16 x 36 inches
How much and where is the best place to buy?
You shouldn't have any problem finding the Razor E100. It is one of the most popular children's scooters on the market and plenty of sites have them in stock. (If your child can't wait, you can also find them in several stores.)
When it comes to price, you can expect to pay anywhere from £179.99 to £249.99. It definitely pays to shop around for the best price. But note, there's a range of colours that dictate prices. Amazon only have blue models but PureElectric have this model in three colours all priced under £180.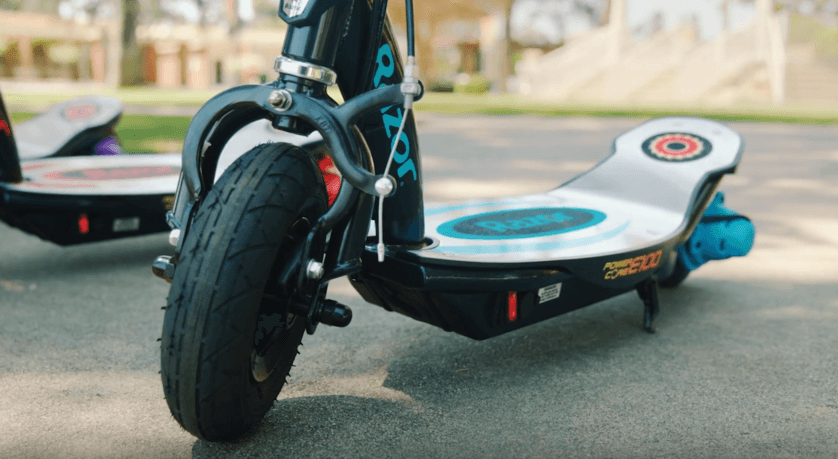 It's easy to review this kids scooter. It's won some awards and is the UK's best seller. 
The trick is to ensure it's appropriate for your child's age. It's suited for most 9 to 12 year old's. Any older than this and model E100 might under deliver. 
It's the perfect starter scooter for most primary school children who are looking for some great fun. If your child is 8-years or under Razor E90 or E90 Glow are popular choices with parents and kids. 
+ FOR
Parents' Choice Award Winner
Super quiet motor
Very low maintenance – charge and go
It's  not too fast not too slow
– AGAINST
It does require some assembly. (On a positive note, it shouldn't take more than 10-15 minutes).
You'll need an Hex/Allen key if you want to fold away.
Longish charging time of 12-hours
How many colours are there to choose from?
The E100 is available in multiple colours, including pink, blue, red, purple, and black, making it pretty easy to find just the right one to fit your child's style. But, we could only find purple, blue and pink via PureElectric.co.uk
It's certainly kid-sized, with the handlebars measuring 55 cm and the deck measuring 53 cm in length and 17 cm wide. While it has a steel frame, the rubber grips are soft and comfortable for a child's hands.
Finally, the twist grip throttle is easy for children to use.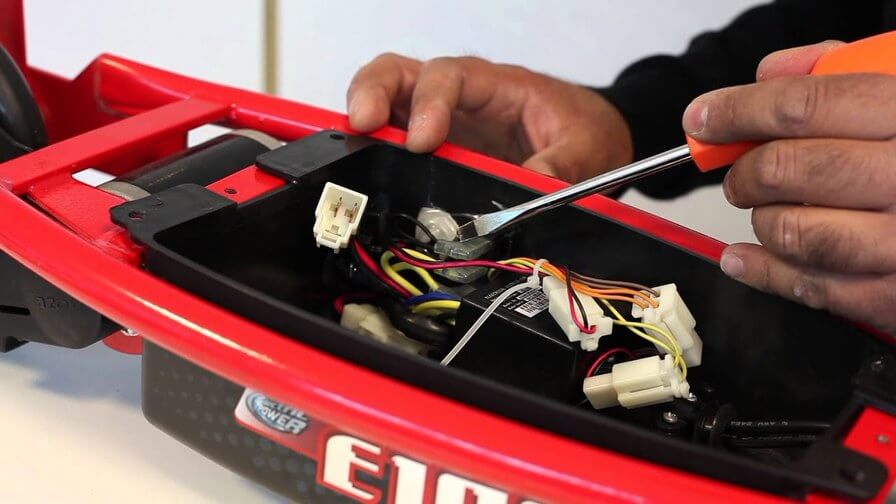 12 Hours to full charge 
A full battery provides 40-minutes of use, usually more than enough for most 8 to 12 year old's
How long does the battery last on a single charge?
The Razor E100 is equipped with two 12V batteries that require an initial charge time of 12 hours. (It can also take up to 12 hours for recharging a fully drained battery.).
When fully charged, it allows for around 40 minutes of continuous use, which is just about how long it will take your child to get bored and look for something else to play with. This should allow them to travel around 10 km.
When it's time to charge the scooter, make sure the power is switched off before plugging the included charging cable into an electrical power outlet. Then, plug it into the Razor's charging port, located on the side of the deck.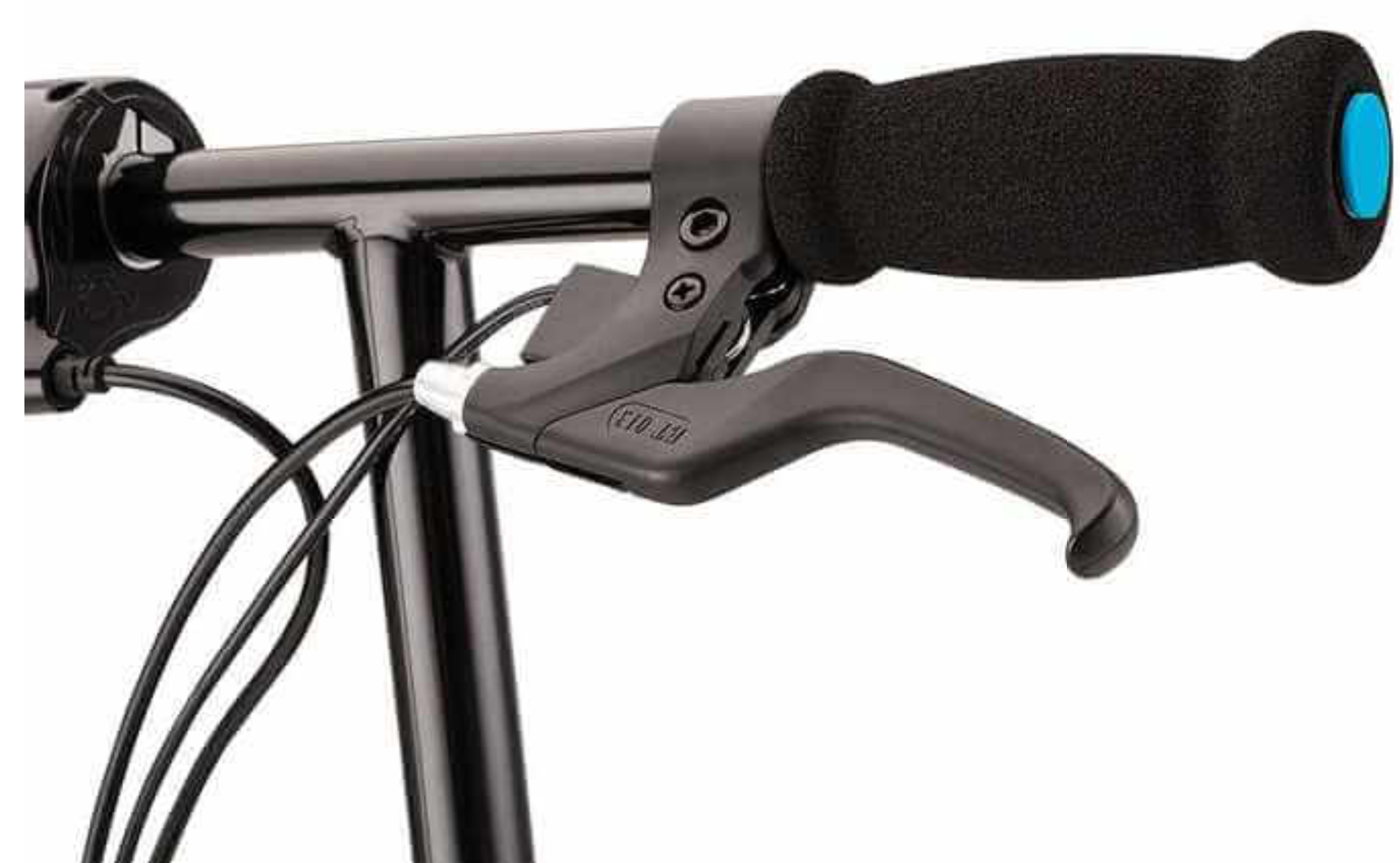 Handlebars are fixed but fold away with a Hex/Allen key
Is there folding and storage capability? 
With a weight of 13 kg, your child probably won't be able to carry their E100 around, but you will.
The scooter doesn't have an official folding mechanism but you can make it a bit smaller by dismantling the handlebars. Frustratingly, you'll need a Hex/Allen key to use this feature.
The best thing about the folding handlebar is how small and compact it makes the scooter. You'll be able to easily fit it in a small space at home.
Child safety and scooter reliability
At its fastest, the E100 hits 16km/h or 10 mph, allowing your child to glide along the pavement, but giving you peace of mind, knowing they can't go too fast.  (It's equipped with a 100W, chain-drive motor.) For added safety, Razor has placed the hand operated brake on the handlebar. (It can easily be pulled, bringing the scooter to a safe stop.)
Also, the power is automatically cut to the motor when the handbrake is applied.
Keep in mind that it is intended for children between the ages of 8 and 12 and has a maximum weight capacity of 54.4 kg (about 8 stone).
Razor is known for making the highest quality products. This is certainly the case with the E100, which can effortlessly handle all of a child's wear and tear. In fact, it could easily  go for years, making it a great investment. When it comes to safety and reliability, the E100 is at the top of the class.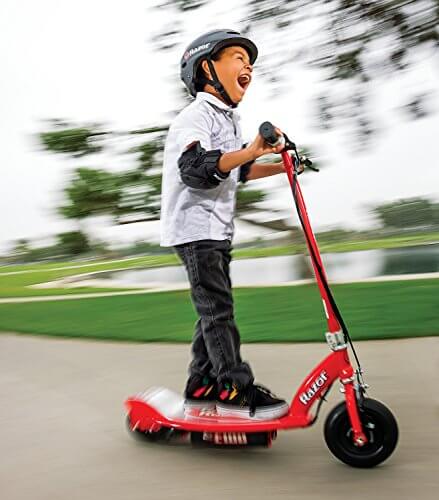 Is it fun to ride?
Thanks to the E100's 8-inch pneumatic tyres, your child should enjoy a smooth ride. They're also certain to enjoy the small jolt from the initial acceleration, particularly if they are thrill seekers. Check here for the lowest online prices.
Our final verdict?
The Razor E100 has it all. Fun colours, a speed that's just fast enough for lots of fun, a child-friendly design, and a quiet motor that won't bother your neighbours.
Despite all it has to offer, the E100 is one of the least expensive scooters for children on the market. And, when you consider that Razor is a well-established brand known for their durability, you can rest assured you are getting an excellent value for your money. The Razor E100 is definitely worth purchasing.