Razor E300 Kids Electric Scooter
The E300 developed by Razor is suited to teenagers 13+ mostly due to its top speed of up to 15 mph. If your child is younger, the Razor E200 is going to be a better fit. 
For age appropriate kids, this scooter ticks most of the boxes – it's trendy, nippy and reliable. Check this review for all the details.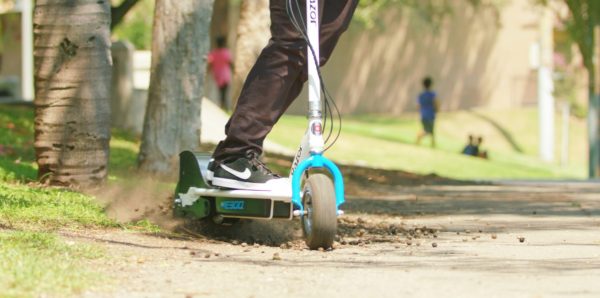 Scooters Electric reviews the UK's leading adult and child scooters. Take a look at this page for popular child electric scooter reviews.
This article reviews the E300 by Razor
For children aged 13 years and above
Battery
24 V (2x 12 V) 9 ah
Max Speed
15 mph / 24 kmh
Max Load
220 lb or 15 stone
Motor Power
250 watt chain drive
Range Per Charge:
45 minutes continuous usage
Charging Time
10 to 12 hours
Waterproof Level
Not waterproof
Specification
41 x 17 x 42 inches
Prices and where is the best place to buy?
The E300 ranges in price from £210.89 to £354.75, depending on where you are looking. Unfortunately, all the websites and stores selling these popular electric scooters at the lowest prices sell out quickly.
Currently, they are available on Amazon and shipped within 2-days.
The big sell with the E300 has to be its speed that tops out at 15 mph compared to its younger brothers the E200 and E100 electric scooter that run at12 mph and 10 mph respectively.
So, this scooter is not suitable for younger children who are under 13 years with some exceptions (should your child be bigger or stronger than other kids their age).  
Kids tend to think this scooter looks good too, which is another plus when it comes to getting most use. 
Yup, it takes ages to get a full charge – 10 to 12 hrs is a bit steep in our opinion even if this is industry-standard with kids scoots. 
+ FOR
Can hold riders up to 100 kg / 15 stone
Fits teens, and adults
Very quiet motor
Quicker than most at this price range
– AGAINST
Does require minimal assembly (one-time only)
Longish charge time, especially for initial charge
Not designed for great portability
How many colours are there to choose from?
You can choose from multiple colours, such as grey, white, red, blue, and a blue/ white combo, making it easy to find the one that best fits your child's style. Despite the fact, the E300 is a bit chunkier than most other electric scooters, teens should appreciate its visual appeal.
It is chunkier due to the large frame and deck, along with the wide tyres. This gives the feel of a solid ride and a boost in ride-confidence. 
As mentioned above, the super-sized deck, with a length of 66.6 cm and a width of 20.4 cm is a bit chunkier than other electric scooters. The handlebars measure 64.7 cm and include a twist-grip throttle acceleration control and rear hand brake.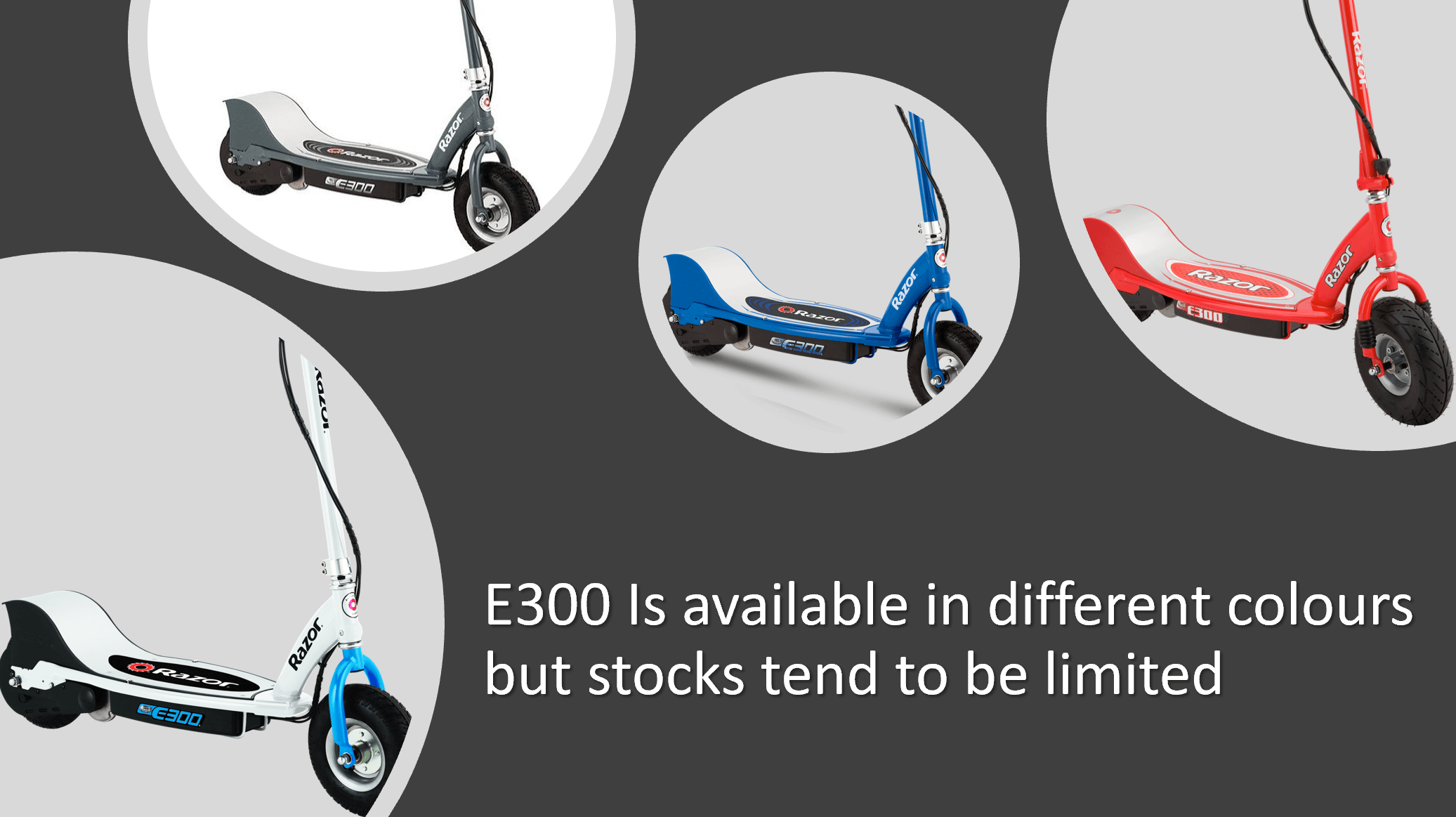 10 to 12 Hours to full charge 
An average weighing 13 to 16 year teenager will get around 40-minutes of full-power use
How is recharge time?
It is equipped with two 12V sealed, lead acid rechargeable batteries. When fully charged, it usually allows for around 10 miles or 40 minutes of ride time. Charge time is typically between 10-12 hours, though it is very easy to connect the included charging cable to an outlet.
Be aware that it typically requires around 24 hours for the initial charge.
Due to limited ride time before a recharge is needed, the E300 it is certainly not meant for commuting.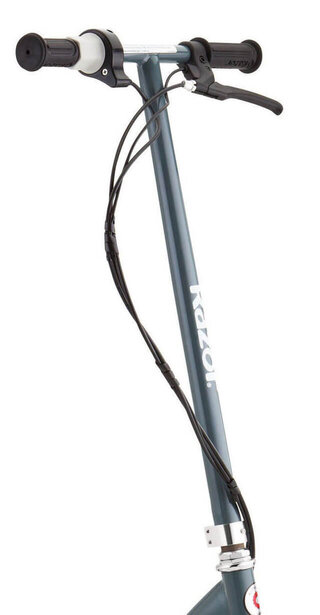 Good sized handlebars at 65 cm to increase ride stability
Rear brake lever
Twist grip throttle for easy application to reduce wrist aching
The E300 has a seat option for riders who have health issues or lack confidence. Amazon have this option for sale now. 
Does the scooter have good portability? 
Portability is definitely not one of the E300's strong points. In addition to weighing just over 19 kg, it does not fold up. However, you can dismantle the handlebars, for storage purposes. This only takes a few minutes, but could become irritating if you are constantly taking the handlebars off and then having to reattach them..
For a teenagers riding around the neighbourhood, portability really should not be a problem. On the other hand, if you are looking to use the E300 for greater distances its going to be unsuitable and there are certainly better scoots on the market. 
The safety of your teenage child
Razor has established a reputation for manufacturing electric scooters that are both safe and meant to last for years. The E300 is no different.
Although its top speed may make you a little nervous, the hand operated rear brake, non-skid deck, and shock absorbing tyres should give you some peace of mind.
As an added bonus, any time the hand brake is activated, the power to the motor is automatically cut, helping the scooter come to a safe stop.
Razor likely did not intend for it to be used at night because it does not have a headlight. However, one could easily be installed.
In terms of durability, the E300 is made from tubular steel that can easily withstand everyday wear and tear for years to come.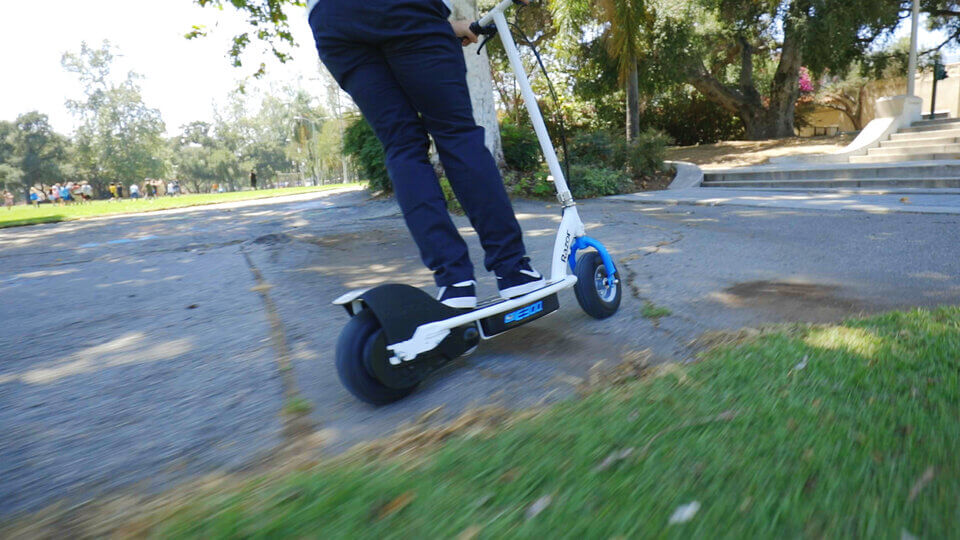 How much fun is it to ride?
With a top speed of 24 km/h (15 mph), riders will definitely feel the wind in their hair as they scoot down the road. However, as a parent, you can feel comfortable knowing that they are not going too fast. At the same time, the 250-watt, high-torque, chain-driven motor will give your child the power they are sure to find exciting.
The extra wide, 10-inch pneumatic tyres can handle most bumps without the rider being jostled around too much, which ensures a pretty smooth ride.
The zippy ride experience and robust frame and wheels are what make this scooter a popular choice. 
Our final verdict?
If you are looking for a durable electric scooter that you can trust is safe, yet your teen is sure to have fun on, at least around the neighbourhood, the Razor E300 is worth considering. Depending on where you find it in stock, you may be able to get a really good price, especially when you consider all it has to offer.
Check today's available colours on Amazon.co.uk 
This particular electric scooter is safe, durable, and is sure to entertain your child for a little while. What more could you ask for?