Latest Pure Air Pro Electric Scooter, review
Check out this escooters speed, power, range and best price
Pure Electric are a national e-kick scooter brand in the UK with solid customer service
Have a better look at the Pure Air Pro via this link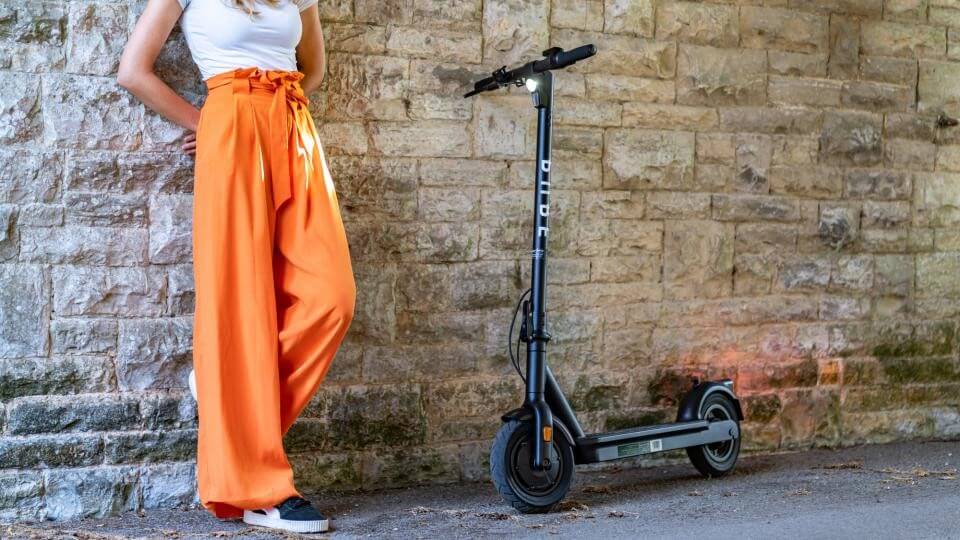 Pure have two core offerings, the Pure Air and Pure Air Pro.
Visit the Pure Electric website and see both scooters side by side.
Finance options are also available.
Range Per Charge:
22.4 miles or 36 km
Charging Time
Approx. 4.5 hrs
Market
Adults and some teenagers
Specification
115 x 50 x 120 cm
Origin
Glastonbury, Somerset
Scooters Electric Air Pro Ratings

Where can I buy the scooter?
Released in August 2020, the Pure Pro Air can be purchased through Pure Electric.
The list price for the Pure Air Pro Electric Scooter is around £679.99, though it's currently available for under £600 on the official Pure Electric website, which puts it in the high-middle price range.
If the upfront cost is a bit steep for you, Pure Electric released a non-Pro version which is more affordable at the £400 bracket.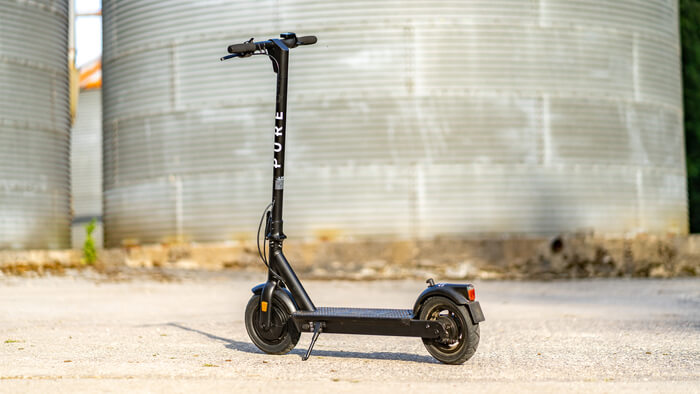 The Pure electric scooter Air Pro is a great all-rounder. It feels smooth to ride and comes with a now increased IP65 rating which means use in a range of weather conditions. 
Multiple speed modes and good suspension help with improved ride-confidence compared to some other scooter models. 
But, Pure Air Pro is a bit pricey and a little heavier to carry around – definite considerations before you invest. 
+ FOR
IP65 rated, meaning it provides protection from water at any angle and dust. The scooter's interior is also designed to be water resistant. This makes it ideal for a variety of weather conditions.
Designed to make you highly visible at night, with a light on the front and back, as well as reflectors on each side.
Pure Air Pro has a max weight of 120 kg, so it should accommodate most riders, along with their backpacks.
Tech components can be replaced by hand, allowing you to DIY and avoid unnecessary expenses.
Makes little to no noise.
– AGAINST
Air Pro is heavy and cumbersome, which definitely decreases its portability.
Drive button is smaller than most other scooters, which may be harder for some people to get used to.
Range may be too low for anyone with a longer commute.
Acceleration tends to be slower.
What are the key design specs for the Air Pro?
The Pure Air Pro is available in both black and grey and has a fairly conventional, yet sleeker and more refined design that includes satin finishes.
It measures 115cm x 50cm x 120 cm, making it one of the bigger electric scooters on the market.
The handlebars are both an average height and size. On the right bar is the display, allowing you to easily control the scooter's settings. The back-lit display has three buttons.
One turns the scooter on and off and allows you to change the distance viewed.
The second changes the riding mode.
The final button turns the lights on and off. A bell is located on the left bar.
The Air Pro features 25.4 cm (10-inch) tyres, which are slightly bigger than the traditional 20.3 cm (8-inch) average. 
The tyres have puncture prevention fluid preinstalled in them to help decrease the possibility of puncturing a tyre.
This scoot has two brakes including a mechanical drum brake on the back and an electronic regenerated brake inside the front wheel (features we've not seen on comparative e-scooters).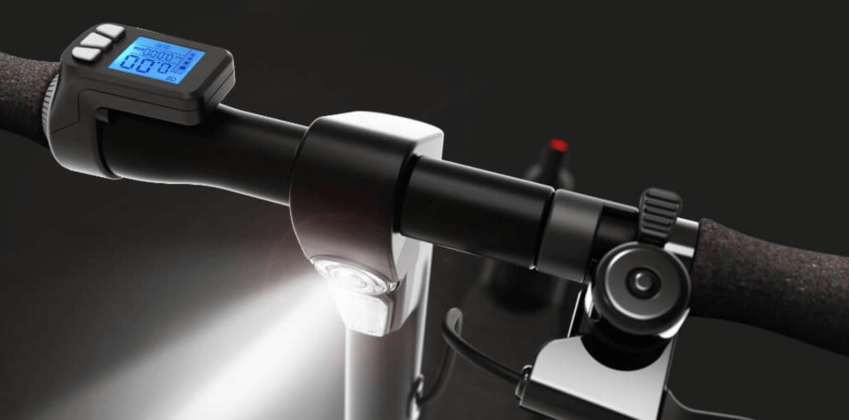 3 Button LED control panel
Power on/off and distance view
Riding mode (3 speeds)
Night lights switch on/off
What's the battery power and range?
The charging port is situated on the bottom of the board. Simply plug in the included power cable and it will power completely up in 4.5 hours. This is about ½ as long as other scooters.
A full charge allows the scooter to travel 36 km if you are in Eco mode. However, you'll only get around 30 km if you are travelling in High mode.
High mode also causes the battery to drain more quickly. As long as you remember to bring the charging cord with you, you do have the option of recharging during the day.
Check this demonstration video and see the scooter in action.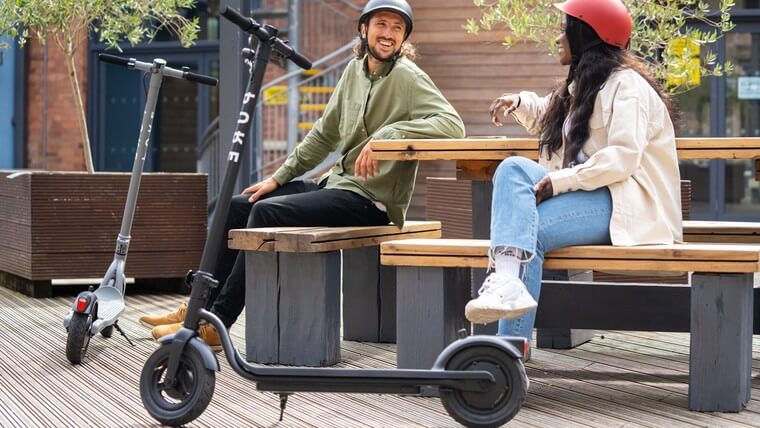 4.5 Hours to full charge 
Range:
36 km Eco mode
30 km High mode
How heavy is the Air Pro and can it be stored easily? 
A catch, conveniently located on the front of the Air Pro, folds the scooter down. To keep it folded, you will use the clasp found on the back wheel. 
When folded, it measures 115cm x 50cm x 50 cm, so it's not exactly tiny. And, with a weight of 17 kg, it's much heavier than the average electric scooter's weight of 10-14 kg. Due to the Pure Air Pro's weight and dimensions, some people may find it difficult to carry. Those who do carry it can count it as part of their daily workout.
Unfortunately, there is no easy way to add a lock to your Air Pro, so someone could walk away with it, if they could carry it.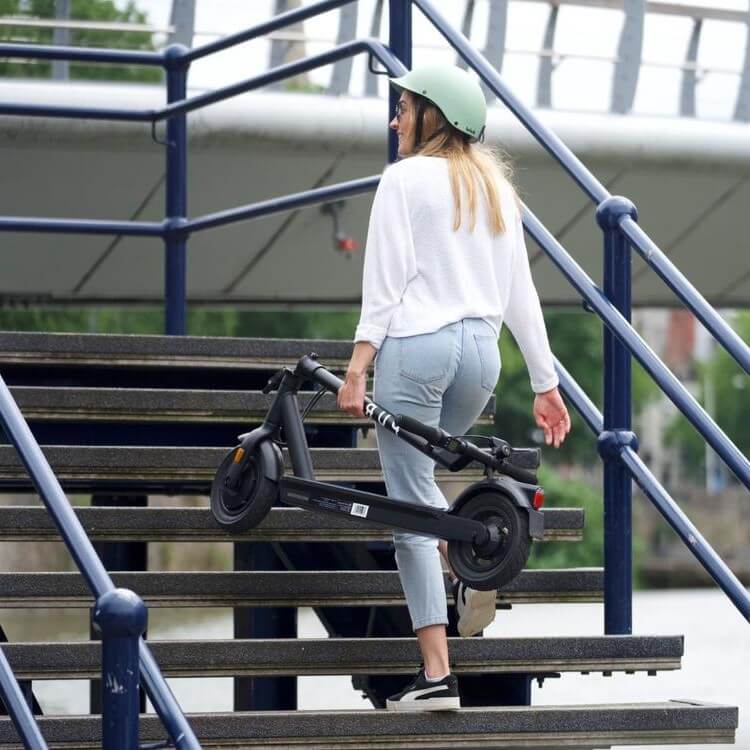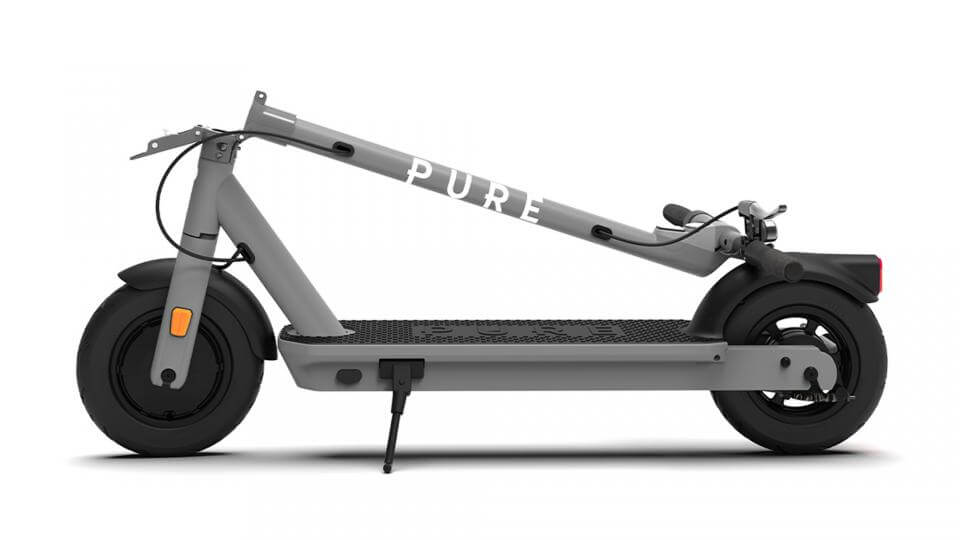 Is it great to ride?
Equipped with a 350W motor, the Pure Air Pro reaches a top speed of 25 km/h and allows riders to choose between three power settings.
The three power settings include:
Eco, while only allows you to hit 15 km/h, but preserves battery life.
Mid allows you to go up to 20 km/h and seems to be your best option on busy roads.
High allows you to reach the scooter's max speed, but it also drains the battery life more quickly. High lets you keep pace with traffic and cyclists.
You will need to kick off, making acceleration slower.
The larger tyres are filled with air, which prevents you from feeling every little bump in the road and are ideal for travelling on cobbled or uneven ground. Thanks to the tyres, the suspension, the sturdy build, and the secure brakes your ride should be nice and smooth, while also making you feel safer.
What is Scooters Electrics final verdict? Should I buy?
There are plenty of reasons to consider the Pure Air Pro electric scooter, as long as you can afford the higher price tag, have a shortish commute (max 10 km/h each way), and think you could pick it up.
It has a stylish look, Pure has a history of manufacturing high-quality products, and the high-power lights that ensure you're seen at night or in poor weather conditions are just a few of the top reasons it should be high on your consideration list.
If the price is a bit steep, you may want to look for an alternative like the Xiaomi M365 Pro or look at the non-Pro model (provided it meets your scooting needs).