Razor E90 Kids Electric Scooter
Age appropriate buying guide for parents with younger children
If you are looking for an electric scooter for your pre-teen (or tween), check the Razor Power Core E90. A popular choice as a first electric scooter.
It's an affordable option for many parents, has excellent safety features and durability. Your son or daughter is sure to enjoy the smooth ride, speed, and long battery charge time.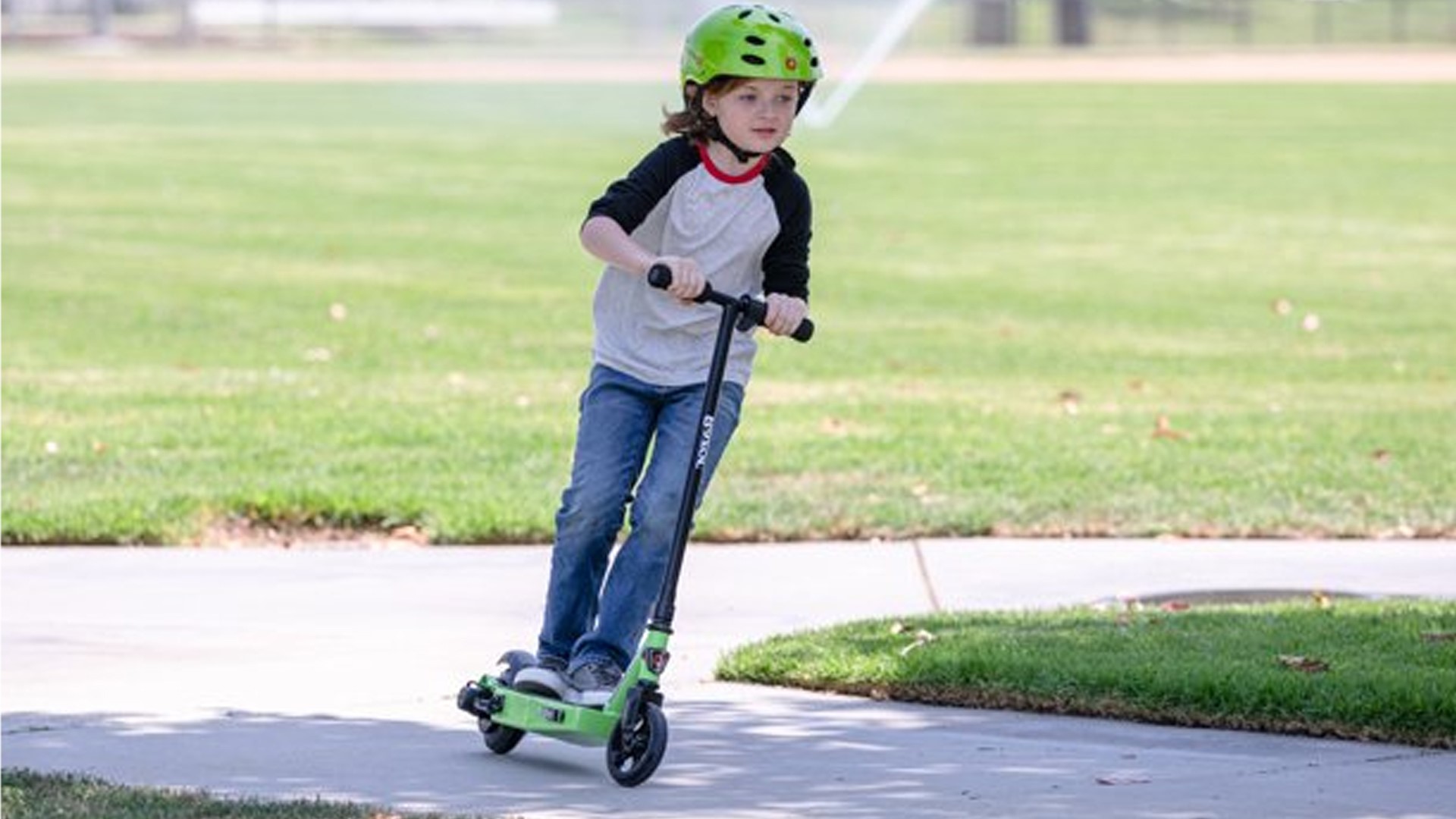 See UK based Ride + Glide for the keenest prices and reliable aftersales service. E90 is also offered on Amazon with free delivery for Prime members but prices are a little higher.
ScootersElectric review all popular kids models by including the Razor Power Core E100 and UK E200 models. Before you decide whether or not you should purchase the E90, read through our comprehensive review below. 
This article reviews the E90 by Razor
Meant for boys and girls aged 8 years and over
See more child and teenager electric scooter reviews like this one.
Battery
Acid rechargeable, sealed lead
Max Load
120 lb or 8.5 stone
Motor Power
100 watt chain driven
Range Per Charge:
80 minutes continuous usage
Charging Time
Up to 12 hours
Waterproof Level
Not waterproof
Specification
32.5″ L x 16 W x 36″ H
Where is the cheapest place to buy this scooter?
The E90 can be purchased for around £139.99 on Ride + Glide in black, lime green or bright pink. This is the cheapest prices anywhere in the UK. Other vendors include Amazon, but prices are steep.
Where ever you buy, this makes Razors bestseller one of the most affordably priced electric scooters for kids. It can easily be found on multiple internet sites and in brick and mortar stores too.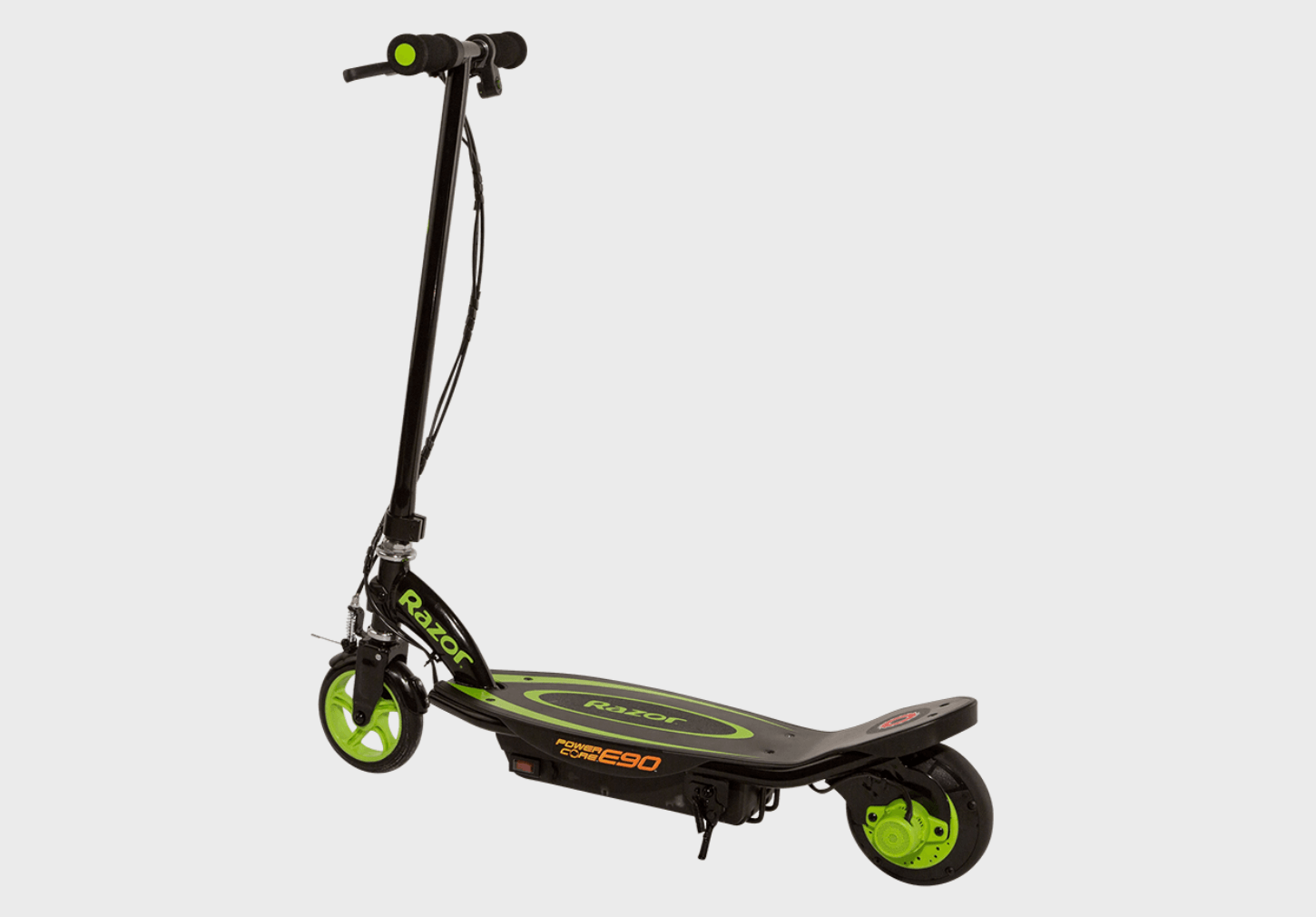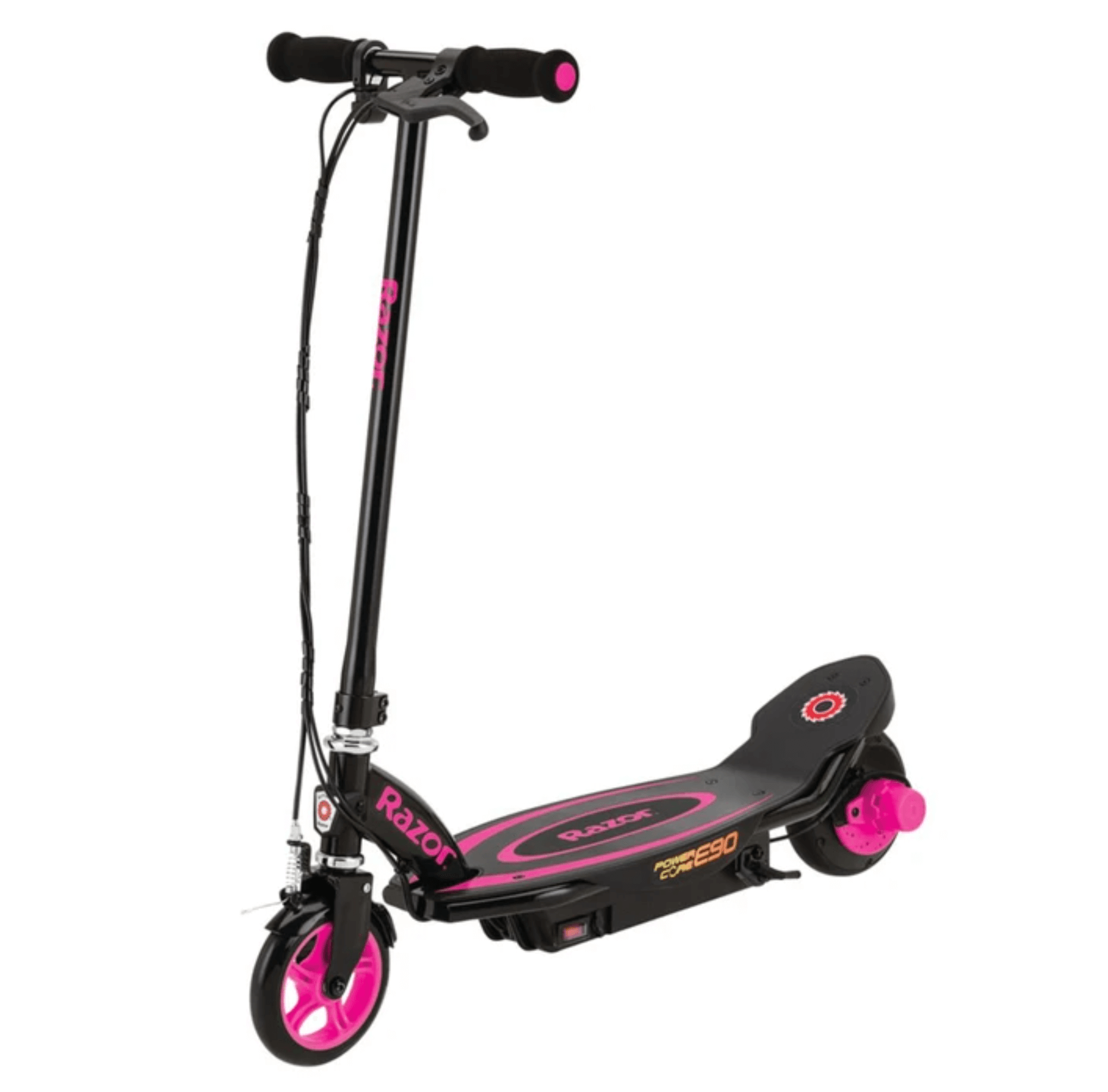 The Razor E90 e-scooter is a good starter scooter for kids.
Continuous ride time
Battery life is great and most youngsters will park up before the battery wears down. But, it takes a good 8 to 10 hours to get a decent recharge.
Razors E90 looks cool and is offered in green, black and pink. But, prices vary based on colour, which is something we don't like at all.
For overall reliability and lots of fun, this scooter is the best on the market right now.
+ FOR
One of the lowest priced electric scooters on the market
Kick start motor ensures no accidental starts
Requires no maintenance
Retractable kickstand should help children remember to not throw their kick scooter on the ground when they are finished riding
Single charge ride time is 80-minutes – that's one of the longest on the market and makes this e-scooter popular with kids and parents
– AGAINST
Handlebars are not adjustable as your child grows
Max weight capacity of 54.4 kg (about 8 stone), which isn't as high as most comparable models
Motor is louder than most electric scooters (not that kids notice it too much)

12 Hours to full charge 
A full battery provides 80-minutes of use and top speed
Is there more information on the battery and range?
The E90 includes a rechargeable 12V sealed lead-acid battery. A fully charged battery allows for around 80 minutes or 8 miles of ride time, which is longer than most comparable scooters. However, both the initial charge time and recharge time are 12 hours. Razor clearly states that this is the case even if the light turns green.
Most batteries can withstand up to 300 charges before it must be completely replaced.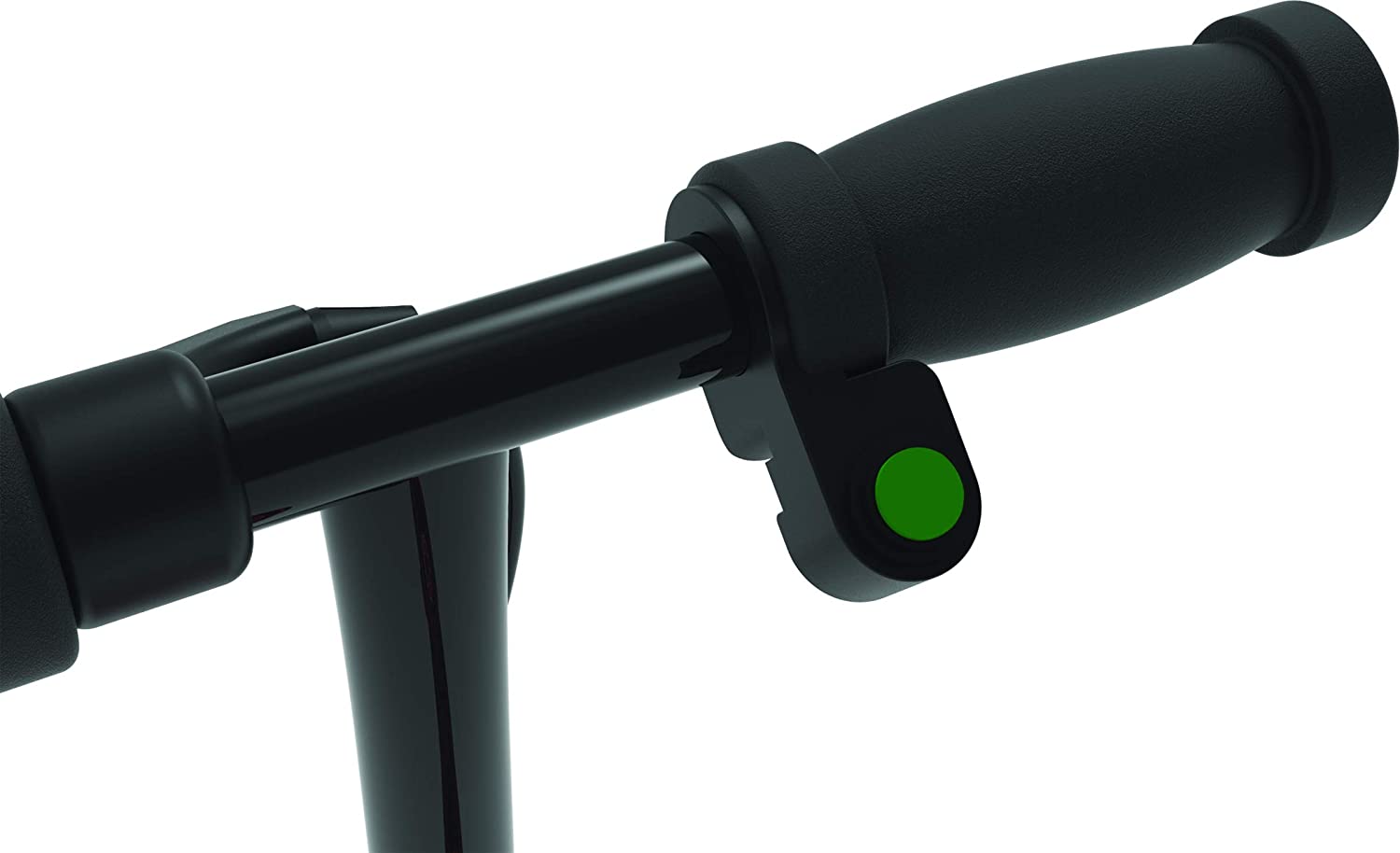 Fixed handlebars reduce storage capability. You'll need a Hex/Allen key to dissemble.
Can it be stored easily? 
The E90 was not designed to be folded up.
Not only does this reduce its portability, but it also makes it more difficult to store it away when not in use. Its weight of 9.8 kg means that children most likely will not be able to carry it.
When assembled it measures 80.4 cm x 32.7 cm x 83.6 cm, so you'll probably want to make certain you have enough space for the electric scooter before making your purchase.
Durability, reliability and safety
Parents will probably appreciate that the Razor Power Core E90 electric scooter only reaches a max speed of 10 mph or 16km/h, though riders may wish that it went a little faster.
The electric scooter also features rear-wheel drive to deliver better traction and balance control, which results in a more stable ride. Keep in mind that the rider must get the scooter going to at least 4.8 km/h before the motor kicks in (Ideal for anyone new to scooting.)
Kids scooters are not designed for wet surfaces, and the wheel hub motor is not waterproof.
Finally, the rear foot kick brake means that it will come to a complete stop simply by pushing the pedestal on the scooter's back end. Overall, you can rest assured that your child is safe while riding the Razor E90.
The Razor brand is known for manufacturing some of the most durable electric scooters on the market, and the Razor Power Core E90 is no different. The lightweight all-steel frame is well-built, and coated with a powder material that prevents deterioration and rust. It includes puncture-proof pneumatic tyres.
Visit Ride+Glide.co.uk for full specifications and safety guidance.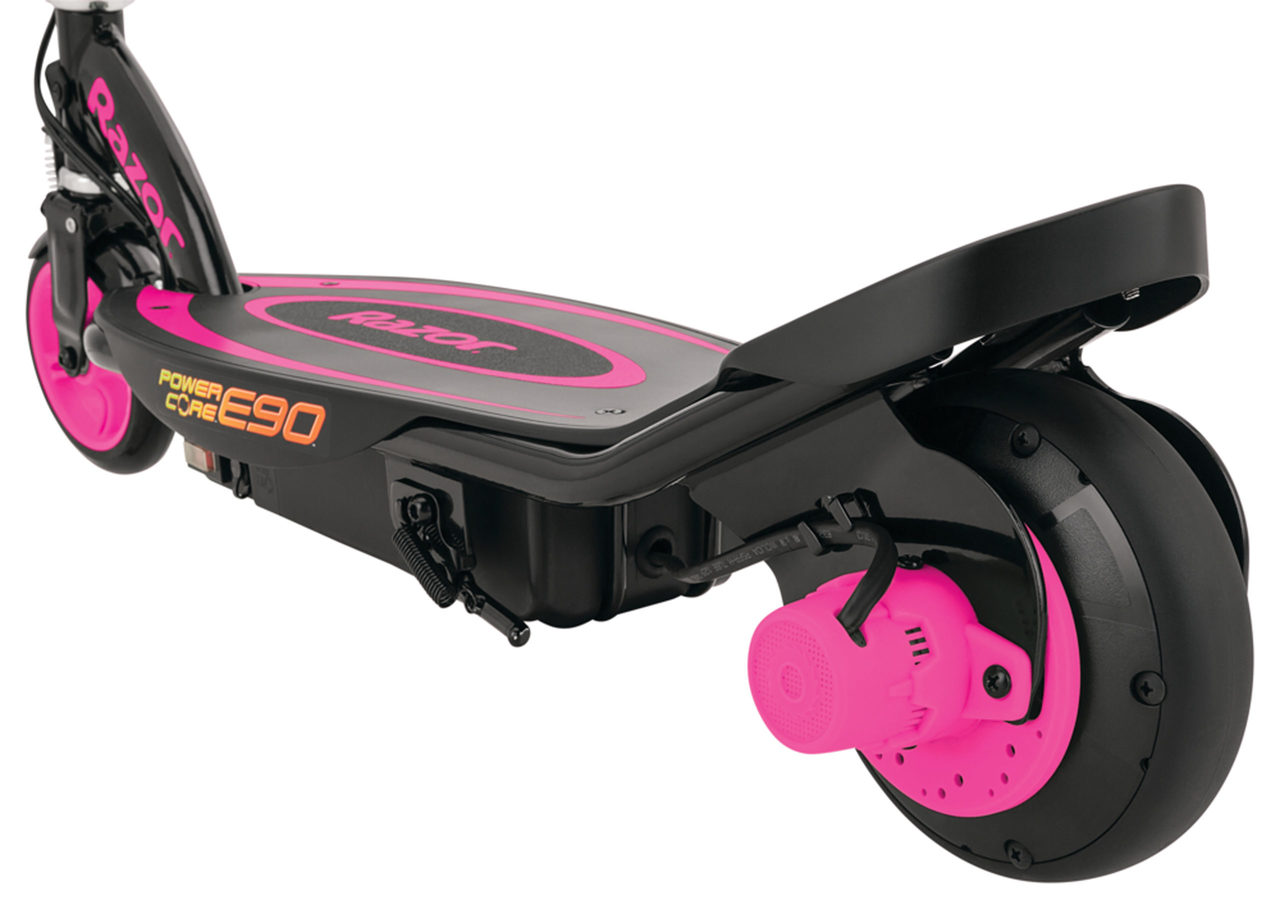 How much fun and use will my child have?
Additional information
The Razor Power Core E90 is equipped with a 90-watt, high-torque motor that provides smooth acceleration, while the 4 ½ inch thick 100% urethane, pneumatic tyres also provide a fairly smooth ride, as long as the scooter sticks to brick, concrete, or asphalt roads.
Child riders tend to appreciate the soft rubber handlebar grips, which are easy to hold on to as they take a spin around the neighbourhood
Our final verdict?
There are plenty of positives associated with the Razor E90, starting with the very affordable price, and very few negatives. This is especially true if you are looking for your child's first electric scooter. The safety features are outstanding, and the ride is smooth and allows the rider to cruise along at an exciting speed. At the same time, you won't have to worry constantly that they are racing around the neighbourhood.
You also have to consider the long range. Many electric scooters can't make it 60 minutes before going dead, but the E90 Power Core from Razor goes strong for around 80 minutes. Durability is also a positive.
When you take a close look at the E90, it's pretty obvious that everything it has to offer far outweighs any cons. Visit Ride + Glide to see all available colour choices.