Kids Razor E90 GLOW Electric Scooter
The Razor Power Core Glow may be the perfect option, especially if your child likes to stand out.
While they are sure to be thrilled with this electric scooter's aesthetic appeal, you'll appreciate its high quality, durability, and low price.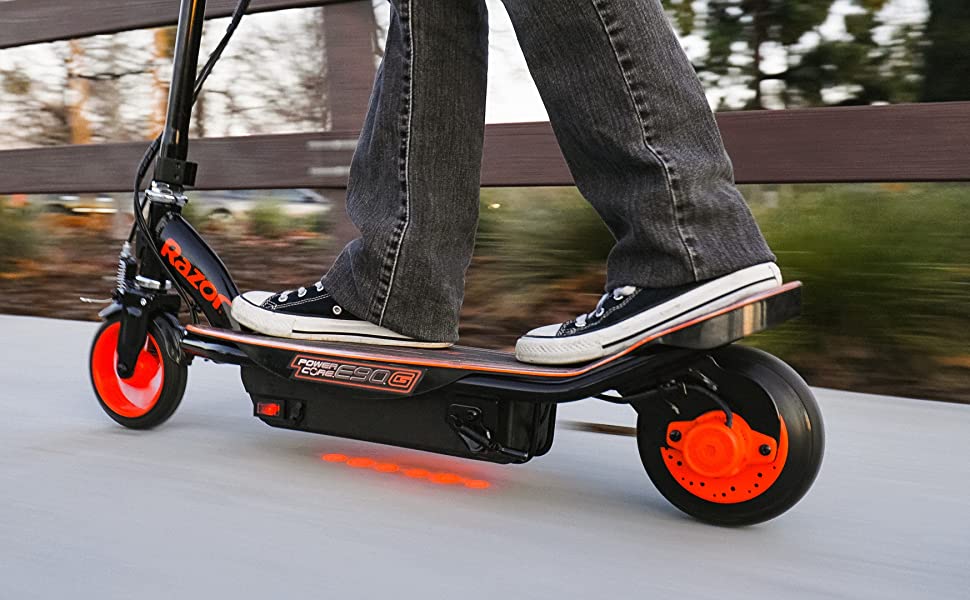 E90 and E90 Glow are part of the Razor family of children's power scooters. We've reviews on the big brothers including the Razor E300
This quick guide offers a full review of the E90 Glow by Razor
The glow is suited to kids aged 8 years and over
Take a look through more kids power scooters by age and upfront cost.
Model NO.
E90 Glow by Razor
Battery
12 V lead-sealed acid
Max Speed
10 mph or 16 kmh
Voltage
12 V rechargeable
Max Load
120 lb or 8.5 stone
Motor Power
90 watt high-torque kick-starter
Range Per Charge:
60 minutes continuous usage
Charging Time
Up to 12 hours
Waterproof Level
Not waterproof
Specification
31.7" (80.4 cm) x 12.9" (32.7 cm) x 32.9" (83.6cm)
What are the lowest prices delivered to your door?
The Power Core E90 Glow is widely available at numerous online sites, though some of them, including the official Razor site, are sold out. The retail price tends to hover around £190. Simply put, you should be able to find your own Core E90 Glow at an affordable price.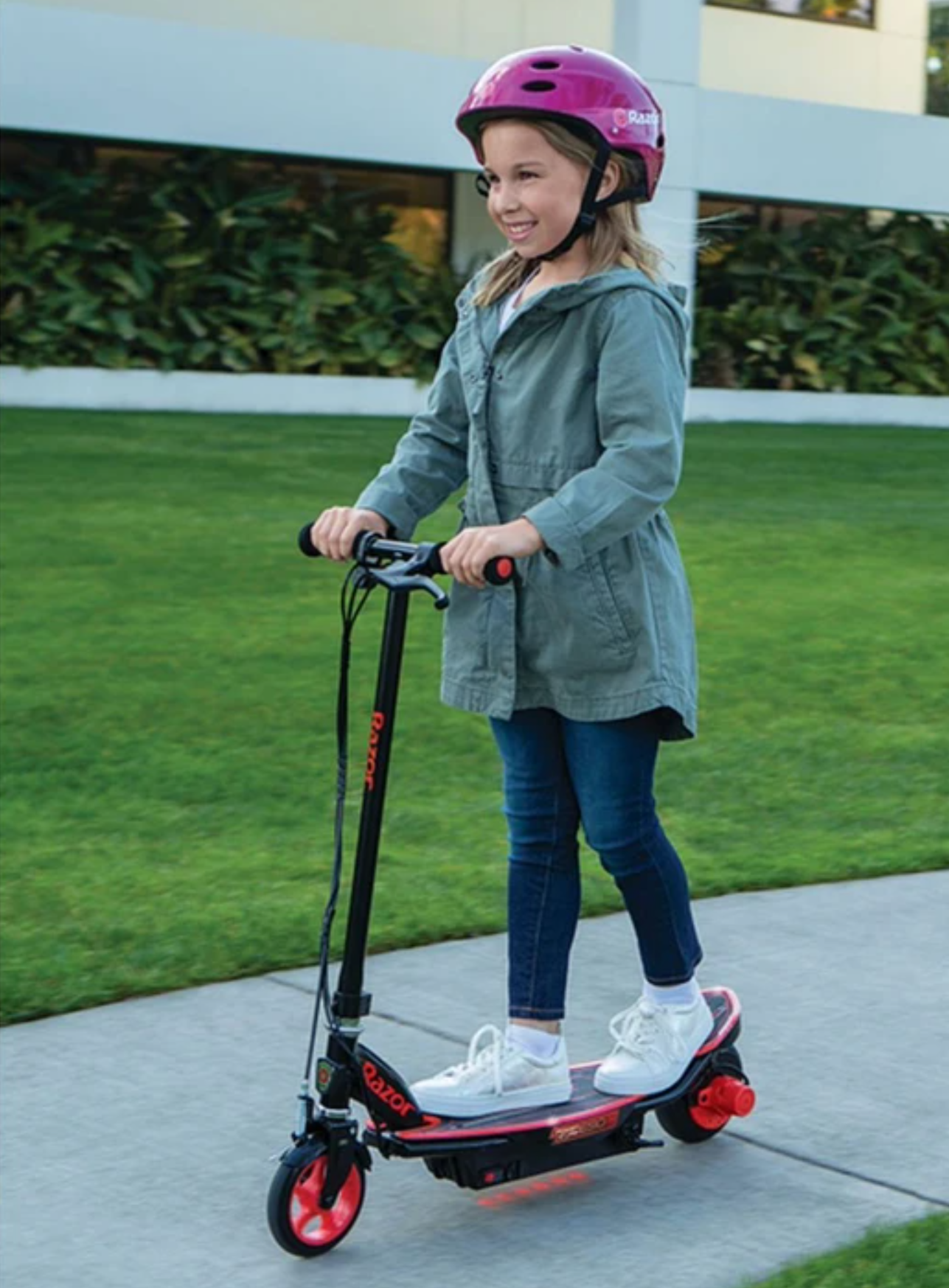 Razor leads the way in kids electric scooters. The glow, E90 and 100 are best-sellers due to affordability and maintenance free scooting. 
This model is designed as a starter kick scooter. Most kids aged 11-years and over will benefit from the 100 or 200 models as they are a bit quicker. 
For less than £180 it's great value and your child is sure to get a lot of fresh-air fun. 
+ FOR
Maintenance free
Plenty of safety features
Features a unique lighting feature that makes it glow
Affordable price and widely available
Intended for kids 8 and up
Quiet motor
It's cheap too, the lowest of which can be found on Amazon and Pure Electric. 
– AGAINST
Only one colour option available
Maximum weight capacity is 54.4 kg
Polyurethane front tyre which isn't as good a rubber
Limited colours but great illumination?
Although the Power Core E90 Glow electric scooter's design is very similar to the standard Razor E90, its design is what sets it apart.
Thanks to the six LED lights situated underneath the deck and the electroluminescent wire lights running along the top of the deck, it gives off a glow that will definitely catch everyone's eye as your child scoots by. As an added bonus, you won't have to worry about someone not seeing your child if they are riding at dusk, in the early morning, or on an overcast day.
There's no denying that the lighting feature is incredible. However, there is currently only one colour option available – a red/black combination that should appeal to boys and girls.

12 Hours to a full charge 
The glow will keep going for 60-minutes. It doesn't sound long but most younger children want a rest after forty minutes or so. See more details on the pureelectric.co.uk
What is the single charge battery life/range?
The Glow is equipped with a rechargeable 12V  battery that allows for up to 60-minutes of continuous ride time when fully charged. To reach a full charge, you will need to allow for around 12 hours of charge time. Razor strongly suggests plugging the charger in every time your child finishes a ride, so that the charge never goes out completely.
It's worth noting that some users do report getting up to 80 minutes of non-stop riding time, which your child is sure to appreciate. However, Razor reports a 60-minute ride time.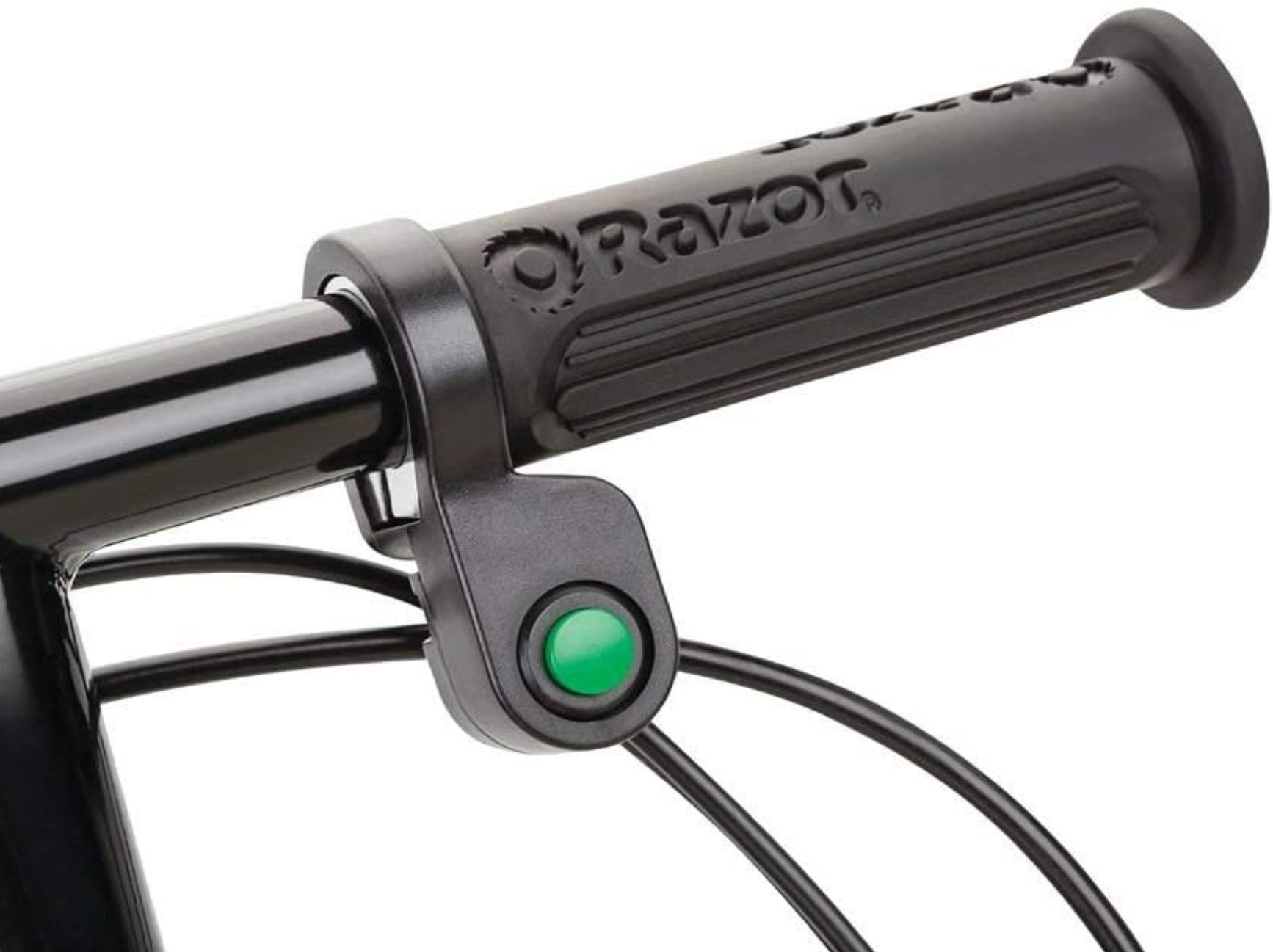 Easy to manage handlebar grips and start button. 
Note, your child must kick-off to start the motor. It might take a few go's before he/she gets the gist. 
Can it be folded away and stored? 
The E90 Glow weighs 9.8 kg and measures 80.4 cm x 32.7 cm x 83.6cm when fully assembled, meaning your child probably will not be able to comfortably carry it around.
Be aware that it is not designed to be folded up, so you'll want to be sure you have enough space to store it before making your purchase.
The safety of your child
Most parents worry about safety. If you are going to buy first-time scooter for your daughter or son the Core E90 Glow is the best option.
It reaches a top speed of 10 mph/16 kph, which is fast enough for your kid to have fun, but not so fast that you'll worry. At the same time, it is a kick-to-start electric scooter, giving your child just the right amount of control in regards to acceleration. Additionally, the lighting feature ensures that riders are highly visible, which is always a good thing. Finally, the easily accessible hand-operated brake allows for better manoeuvrability and control and is known for being highly responsive and fast acting.
However, don't forget that the polyurethane front tyre can present some problems on uneven and/ or wet surfaces.
Razor is well known for manufacturing some of the highest quality and most durable electric scooters on the market. The all-steel lightweight frame is designed for durability and can easily withstand repeated outdoor use.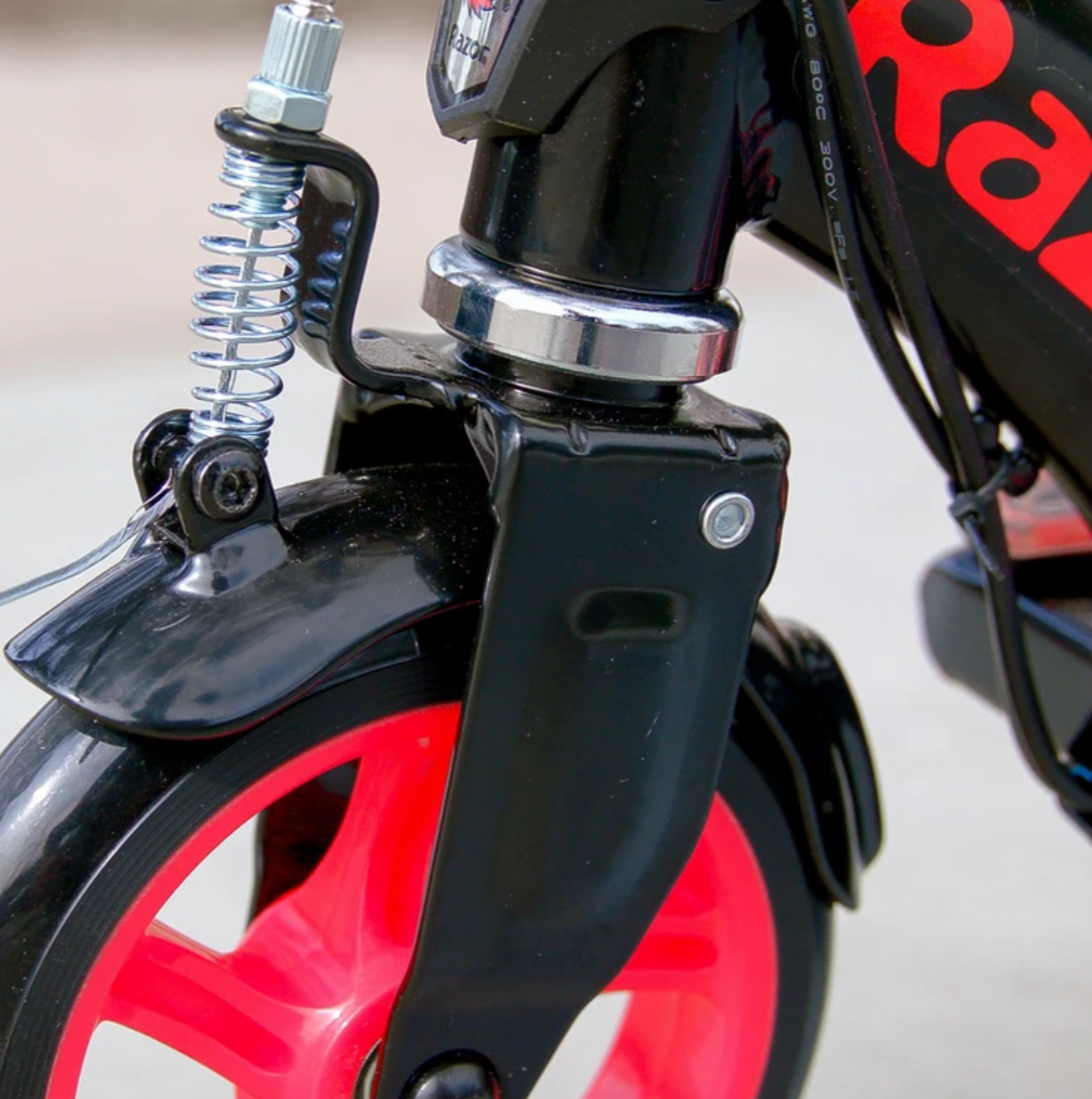 How much fun will my child have riding?
The 90W, hub-driven motor allows for smooth acceleration with plenty of power, while the airless rear tyre provides stability and a smooth ride. However, it is important to note that the front tyre is made of polyurethane, which doesn't absorb bumps as easily as other tyre materials.
Our final verdict?
The Razor Core E90 Glow has a lot of positives, making it a terrific option for children over the age of 8, even as their first electric scooter. Your child is sure to be thrilled with the cool glowing color and you'll be thrilled with its high-quality,  need for little to no maintenance, and reasonable price tag.
The ride time should allow your child plenty of outside time before they get bored and start to look for something else to do. (Just be sure to plug in the charger when they get off, so it'll be ready when they decide it's time to ride again.)
Keep in mind that the weight limit is somewhat low and may not accommodate a growing teen for years to come. (Fortunately, thanks to Razor's reputation for durability, you can easily pass this one down to a younger child when the current rider outgrows it.)
Get the latest prices and delivery options on Amazon. But, we suggest buying with Pure Electric who offer the scooter for less and have some good customer service.