Best electric scooter for 6 to 8-year-olds?
Guide for parents considering a junior electric scooter for their child
Always consider your child's level of confidence and riding ability before opting for a kids E kick scooter. 9 MPH can seem pretty nippy for a young child, especially during their first few goes at riding.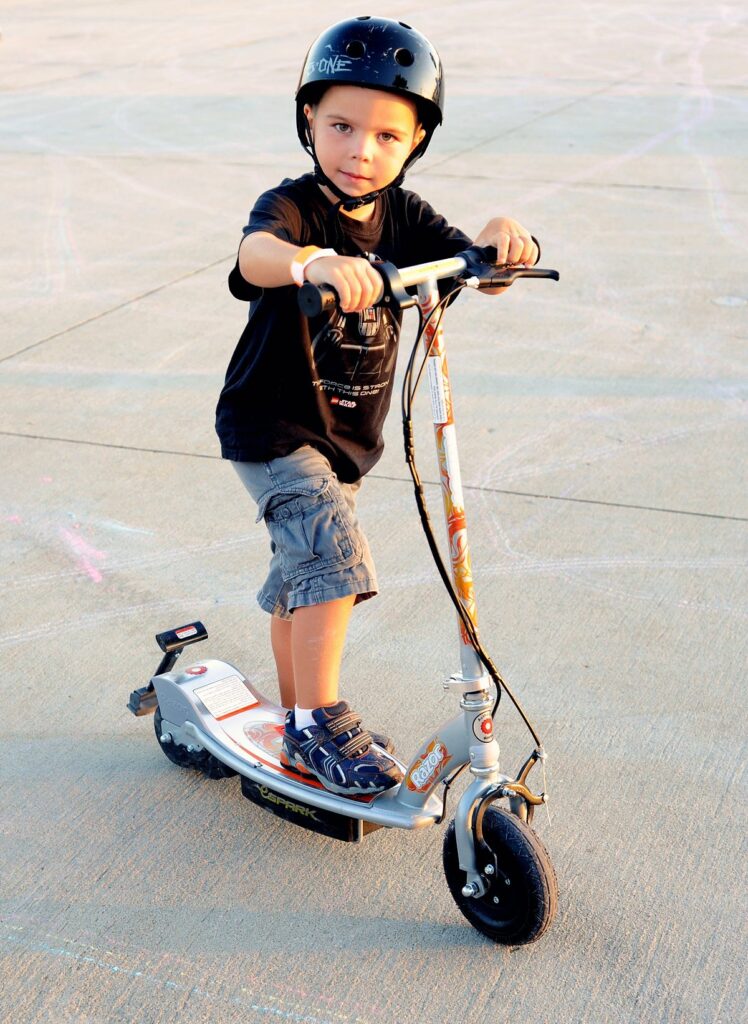 Our recommended E kick scooter for children aged between 6 and 8 years old:
Razor E90 Rating
Available in colours to suit boys and girls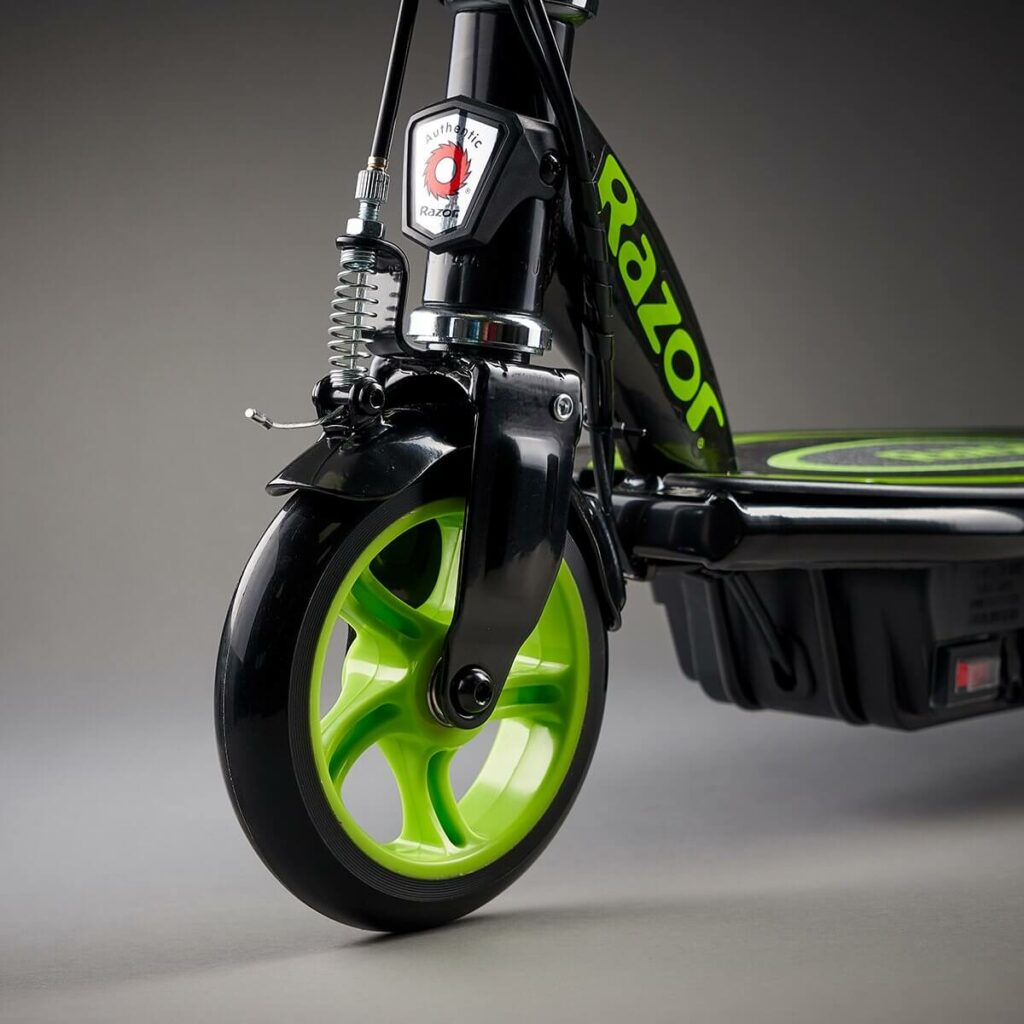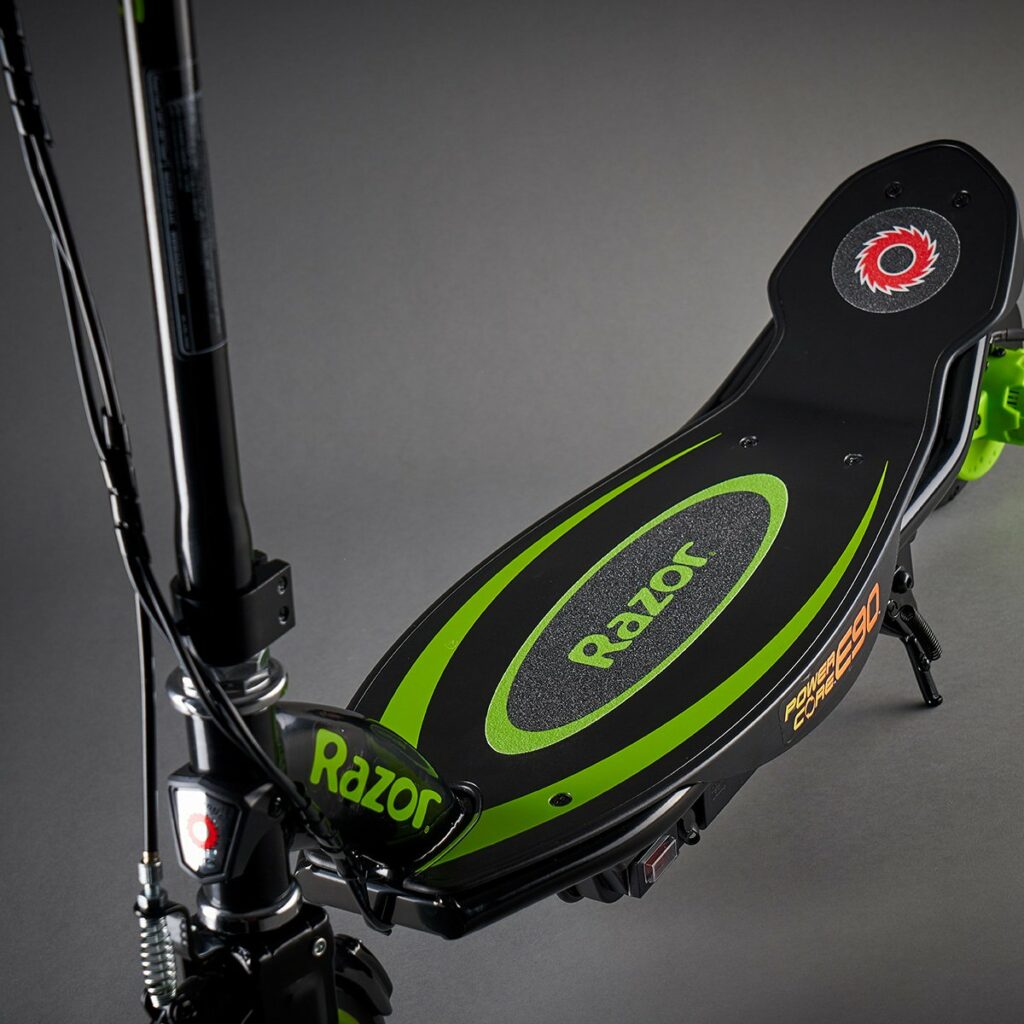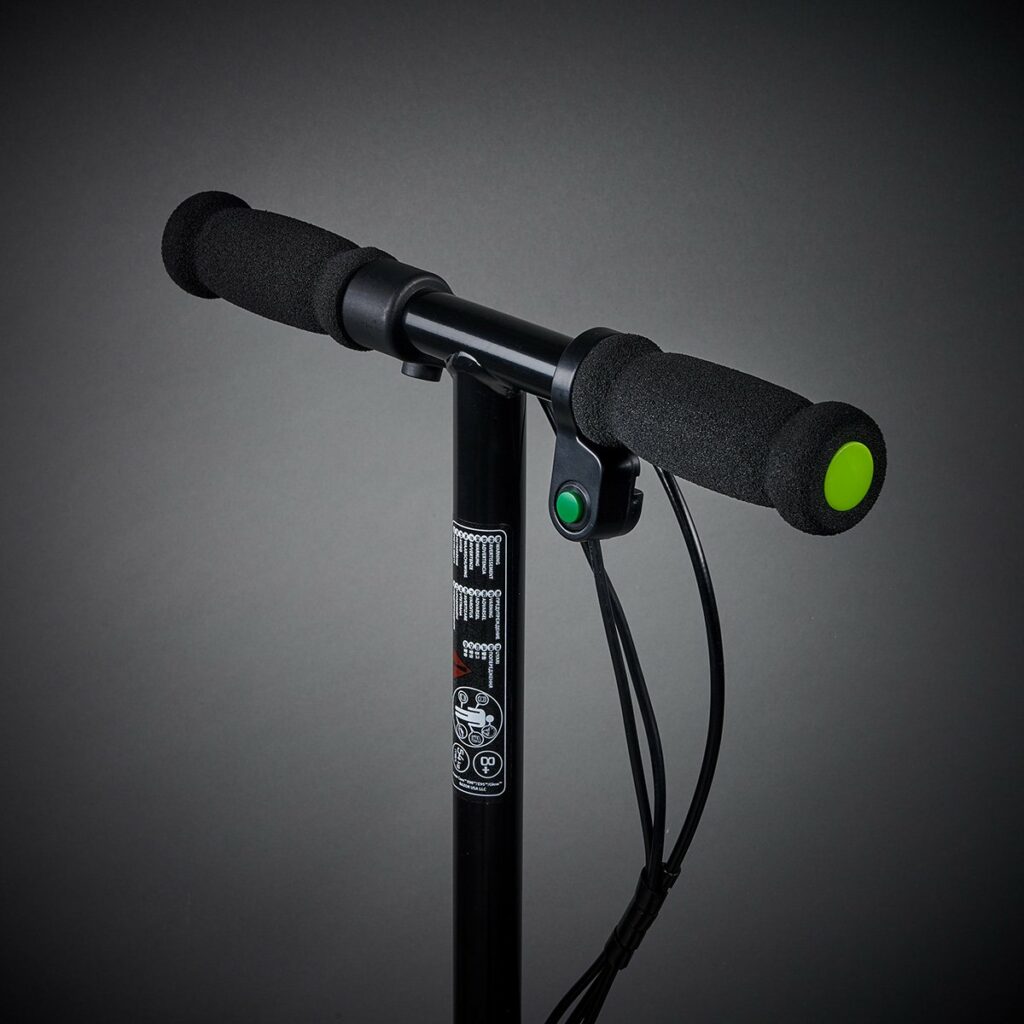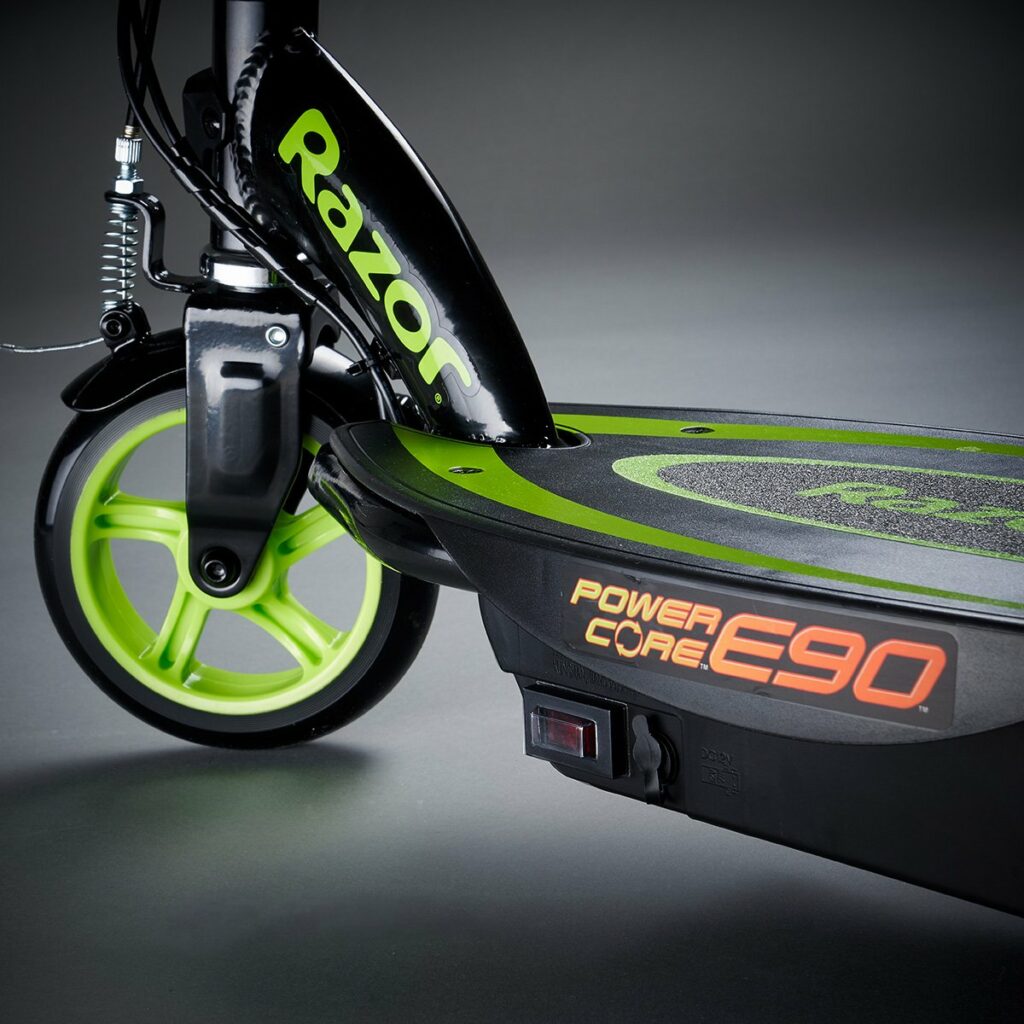 Buyers rating
Get more details and parents buying options on Pure Electric
Razor E90 basic specifications
Age suitability: 8 years is suggested, but younger kids  (from 6 years old) can ride if they start off with some careful parent supervision
Size: 32.9 x 31.7 x 12.9 inches  (83.6 x 80.5 x 32.8 cm)
Weight: 22 pounds (4.5 kg)
Max speed: 10 mph (16 kph)
Range: 5 miles (8 km or about 80 minutes ride time)
Max rider weight: 120 lbs.(54.4 kg)
E90's bigger brother is the Razor electric scooter E100, a bit quicker (not recommended for very young kids) but battery life is not as good. 
Parents should note, power motor kick scooters for younger children are not fully waterproofed. A little damp is fine but puddles or heavy rain can damage the electric motor.
Kick scooters for your 6 to 8-year-old girl or boy
Most little ones love electric kids scooters, and it's easy to see why:
Helps them stay active and outdoors
Offers the perfect transportation for socialising with friends in the neighbourhood
Builds self-confidence and balance skills
Mums and dads might be interested in our comprehensive Razor E90 electric scooter guide. 
Parents will appreciate that an electric scooter will get their kid outdoors and away from their electronic devices, while also keeping them active and socially involved.
Of course, not all electric scooters are the same, especially where children are concerned.
Recommended age, size, range, and top speed can vary greatly from one electric scooter to another.
If you are looking for the best electric scooter for 6, 7 and 8-year-olds, you'll quickly become overwhelmed by the wide selection available.
To help mum and dad, we've created a simple parents guide to the best electric scooter for kids aged 6, 7 and 8-year-old.
Razor E90 motor scooter speed
When it comes to 6, 7 and 8-year-old kids, you will want to look for a scooter that goes fast enough to excite them, but not so fast that you constantly worry they will lose control.
Most manufacturers strongly recommend that you shouldn't choose an electric scooter that goes more than 10 mph for this age group (the Razor E100 goes 10 MPH). Anything faster is simply not needed at this age and should be left for the older age group of 9 and 10-year-olds.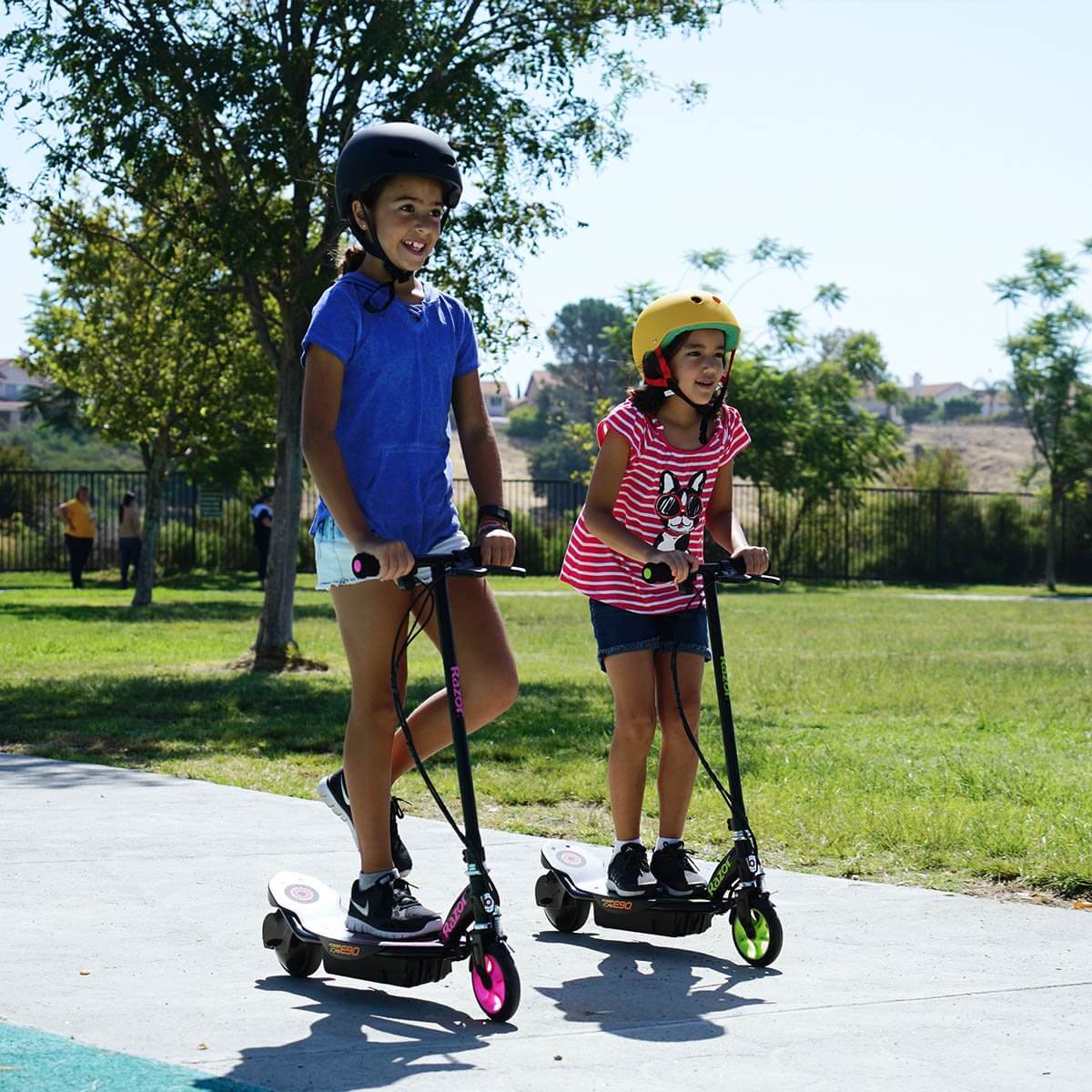 The E90's top speed is 9 MPH. We have found this ideal as acceleration is excellent, but it peaks out quickly.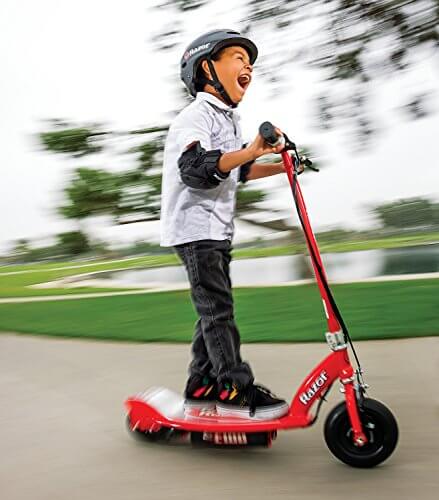 Range of an electric scooter for 8's and under
How long until a flat battery?
Range refers to how far an electric scooter will go or how long it can ride between charges.
For kids aged 8 and under you will want to select an electric scooter that allows plenty of time for riding fun.
For most kids of this age, a range of 60 to 80 minutes is just about perfect. Anything less is likely to go dead before they are ready to move on to something else.
Scooter size for smaller children
Parents need to be sure any electric scooter they are considering for their 6, 7 or 8 years old is large enough to accommodate their size, but not so large that it is impossible for them to steer or move it safely or properly. You'll certainly want to stay away from any that are adult size.
Balance is a learned skill and once it's mastered self-confidence begins to grow. The E90 is a great all rounder for most children aged 6 to 8 years.
If he or she is smaller than average, look for a different scooter model. You may be inclined to buy a larger electric scooter they can "grow into," but this could backfire. They could easily lose control and end up hurt. Your best option is to look for an electric scooter designed for kids with an adjustable handlebar that you can grow with your child.
Scooter weight for easy riding
The weight of kids electric scooter's varies depending on the manufacturer. 
You'll want to consider your child's weight, how much they can withstand and self-confidence.
While they obviously won't be carrying their electric scooter around, they may have to pick it up off the ground. You'll want this to be easy for them, or they'll end up yelling for you constantly. 
Keep in mind that all kids electric scooters have a rider weight limit that you should also consider when choosing. If your child exceeds the weight limit, the electric scooter may still run, but it will be much slower and the battery will not last. 
We larger children we recommend a scooter that over delivers rather than under performs.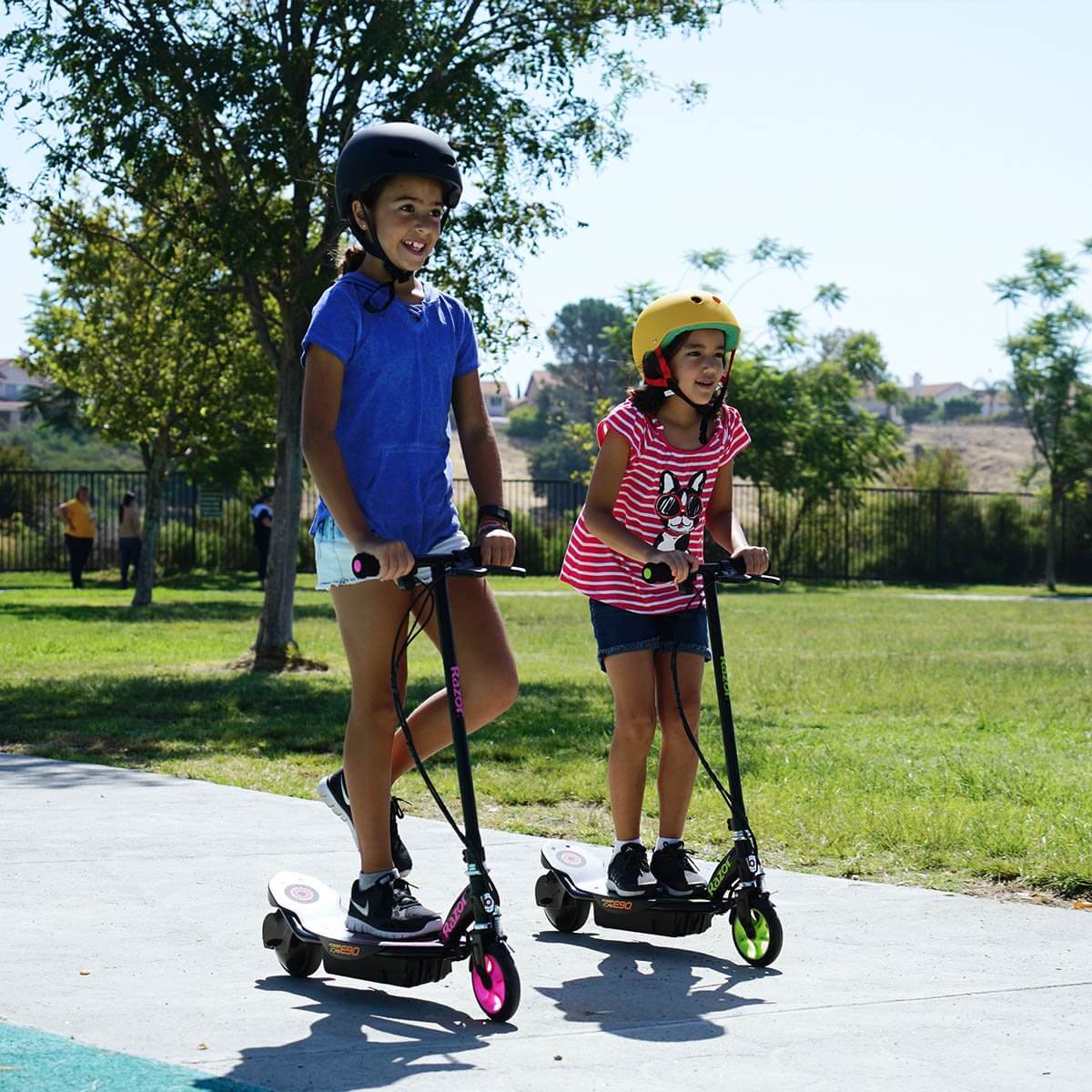 E90 Power Core weight metrics: 22 pounds (4.5 kg)
Head to Pure Electric for more images and specifications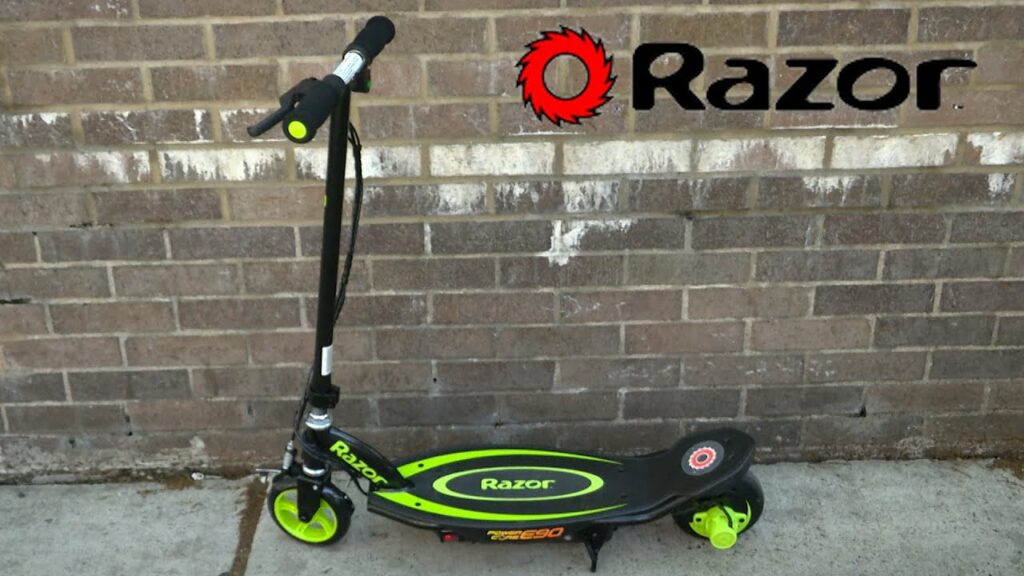 Our Favorite Electric Scooter for Kids
After looking at all the electronic scooters for kids on the market and considering our suggestions regarding age range, size, weight, speed, and range, we have decided to recommend the Razor E90 for your 6, 7 and 8-year-old.
When Razor created the E90, they must have had younger kids in mind. Not only does the E90 have a hand-operated front brake and push-button acceleration controls that are easy for children to use, but it also hits a top speed of 9 mph, which is fast enough to excite the rider, but not so fast that parents will worry.
As an added bonus, it is a little slower to accelerate than most other electric scooters, which offers a safety advantage for kids who aren't quite used to riding. Even better, the handlebar is short, so young riders should have no trouble handling this electric scooter.
The Razor E90 is available in green, blue, black and pink, so there will be appeal for most 6, 7 and 8 year olds.
Parents will also appreciate the Razor E90's budget price tag. Pure Electric offer with delivery for £165.00
It's worth noting that the Razor E90 is not equipped with reflectors or a bell, but you can easily add your own.
Safety Tips for Electric Scooters for Kids
It's important to remember that electric scooters can be dangerous, particularly for younger children. This is why adult supervision is an absolute must when an electric scooter is being used and a helmet should be worn at all times. In addition, shoes should always be worn while riding electric scooters.
Our partner for all Razor electric scooters for kids is Pure Electric. They offer low prices and finance options to make this an affordable option for many parents with young kids. 
Finally, riding should be limited to the pavement, parks, and driveways.