Xiaomi's M365 vs Pure Air Pro
Xiaomi M365 Pro and the Pure Air Pro electric scooter are two best sellers. I am seeing more and more of them on the roads despite the fact they are not legally allowed.
Pure and Xiaomi are two respected names in the field of electric scooters, known for reliability, build quality and for being affordable. Plus, both are designed for day to day use.
Pure Electric are the main scooter provider on UK shores. With finance options and good customer service, they are recommended.
What sets the M365 and Air Pro apart?
Below is a decent comparison of the M365 Pro and the Pure Air Pro and examined every aspect of each escooter to help you decide which one to go for. Similar e scooters include the Segway Ninebot ES2 and big brother G30 Max.
Image of Air Pro versus M365 by Xiaomi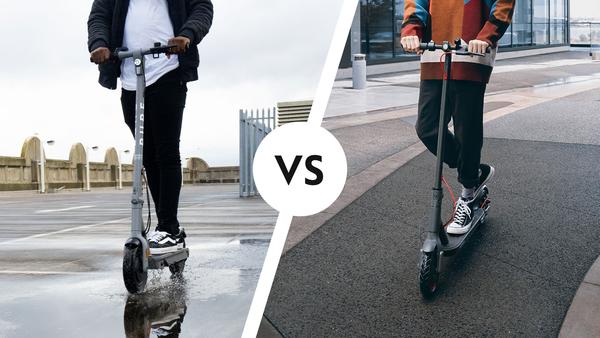 Availability and Price
If you can afford to pay a little more for an electric scooter it is usually money well spent. 
Xiaomi M365 Pro can be purchased via Pure Electric for less than £400. That is very cheap as only a few months back it was £549.
Pure Air Pro Electric Scooter is found Pure Electric website, where it retails for £499. It's a little more than the M365 because its a later model.
Pure Air Pro – Get more information here 
Also, the Air Pro is manufactured and sold in the UK. Pure Electric have solid customer service too so if you get a mechanical glitch they are on hand. 
Build Quality and Max Load
While the Xiaomi M365 can carry up to 100 kg, which is perfectly acceptable, the Pure Air Pro tops120 kg (almost 19 stone), which is impressive.
When it comes to electric scooters, a higher maximum load is a key indicator of sturdiness, making the Pure Air Pro the winner of this category – especially important for inclines and prolonged battery life. 
Speed and Power
Equipped with a 350W motor, the Pure Air Pro has a max speed of 25 km/h. Interestingly, the M365 also has a max speed of 25 km/h, leaving them evenly matched.
What does differ is the M365's 300W motor, which isn't quite as powerful as the Pro Air. As a result, the Pure Air Pro will not have to work quite as hard to power you along, particularly when climbing hills or carrying a heavy load.
Here, the Pure Air Pro is the winner due to the higher wattage output that results in a more powerful motor.
Bigger budget?
Inokim are a top notch e-scooter manufacturer.
If you've got a bigger budget consider the Inokim Ox which happens to be our top rated scooter.
Battery and Range
Range can be crucial, depending on how long you use before a recharge.
The Pure Air Pro has a max range of 36 km, while the Xiaomi M365 Pro boasts a max range of 45 km.
Here, it looks like the M365 is the clear winner.
On the other hand, the longer range comes with a longer charge time.
The M365 takes around 8 hours to be fully charged, while the Air Pro requires a mere 4.5 hours. This is a pretty significant difference. If the 36 km range fits your commute, it may be the best option due to the faster charge time.
Safety and Braking
Both electric scooters were designed with safety in mind and include a mechanical rear brake and electronic front brake.
However, there are some differences between the two. The M365 Pro's front brake includes an energy recovery system. This means that a tiny amount of power is fed back to the battery when it is activated, which puts more wear and tear on the motor.
Additionally, the M365's rear disc brake is exposed to the elements and requires more maintenance than the drum-style rear brake found on the Air Pro.
Here, the Air Pro comes out slightly ahead, only because its brakes produce less wear and tear and require less maintenance. But, I'm a fan of hydraulic brakes anyhow. Drums are a bit 1980's. 
Water Resistance
The Xiaomi M365 Pro has a water resistance of IP54, meaning it is rated for "protection from water splashes in all directions," while the Pure Air Pro is rated IP65, which can withstand "low pressure jets of directed water from any angle."
In terms of water resistance, the Pure Air Pro is easily the winner.
Riding Experience, Control, and Comfort
The Air Pro is equipped with a strong chassis, allowing it to better withstand poor surfaces and impacts.
Tyres
The Air Pro also includes 10 inch air-filled tyres, which is a huge factor in comfort and control. The 10-in tyres provide a better grip and make riding over bad paving much easier.
The M365 also has air-filled tyres, though they only measure 8-inches, meaning the kid won't be quite as comfortable.
Storage and Portability
The Pure Air Pro weighs 17 kg and measures 115cm x 50cm x 120cm.
The M365 Pro weighs 14.2 kg and measures 108 cm x 43 cm x 114 cm.
Both have collapsing mechanisms that allow for easy storage.
Carry weight
If you'll be carrying your electric scooter for any significant distance, the 3 kg difference in weight may be very important to you. Of course, both are a manageable weight for carrying short distances and up flights of stairs.
When it comes to storage and portability, the M365 Pro comes out on top, though the difference really is minimal.
Warranty
The Xiaomi website reports that all of their electric scooters come with a full 2-year warranty in the UK. This warranty is definitely one of the longest you'll find for an electric scooter.
The Air Pro's 12-month warranty begins on the date of delivery and includes any defects in workmanship and materials, as well as the cost of parts and labour. It does not extend to consumable items, such as inner tubes, tyres, or brake pads.
But note, Pure is a UK brand with UK shops and solid customer service. 
But, in terms of warranty, it's really hard to beat the full 2-year warranty that comes with the M365 Pro.
Final Thoughts
Xiaomi M365 Or Pro?
Now that you know exactly how the Xiaomi M365 Pro and the Pure Air Pro stack up against each other consider the £100 price difference. 
Personally, I'd opt for the Pure Air Pro with superior battery life, faster charge times and larger wheels for a smoother ride. It's only available on the Pure Electric website (with a decent finance option).